The disagreement between sales & marketing agencies is a long-standing problem. Marketing and sales misalignment is quite a common occurrence and organizations with divided marketing and sales departments that work independently are at a disadvantage.
This misalignment is the reason why businesses are failing around the world. Studies have shown that it's costing companies over a trillion dollars each year. In fact, this misalignment between sales and marketing divisions is the primary reason why a company's annual revenue comes to a standstill, or worse, decreases.
This issue is becoming such a rage topic that SaaS companies with over employees have reported it as their 3rd biggest marketing priority, followed by understanding marketing ROI & reducing acquisition costs.
Marketing and sales alignment is about one common objective: revenue that is over-delivered or delivered each quarter. While tension will always be there, it can be beneficial if the culture of clear communication and expectations exists."- Craig Rosenberg
Consequently, for B2B organizations to create a scalable, consistent revenue machine, they must prioritize B2B sales and marketing alignment.
Let The Numbers Do The Talking…
If you're still unsure of why aligning your sales and marketing branches is important, the following sales and marketing alignment statistics from Marketingprofs and Marketo will prove how beneficial it can be for your B2B business.
Companies with firmly aligned sales & marketing divisions experience a 36 percent boost in customer retention rates.
Organizations that align their marketing & sales teams can close deals better by 67 percent.
Aligning both teams also leads to a 38 percent increase in sales win rate.
Revenue from marketing can increase by 209 % when the two departments align.
Alignment of sales & marketing should be the top priority of your organization. And, even though the two departments don't always agree with each other, you have to ensure that they share common goals. In doing so, they can help your business in generating more qualified leads and boost revenue.
4 Methods For Better Marketing & Sales Alignment
Now that you know how incredibly beneficial it is for your B2B business to align sales & marketing, let's bring our focus on the tactics to help you do so. The following are 4 easy methods for effective alignment of B2B sales & marketing:
A Single Buyer Journey
To get everyone in your marketing and sales team on the same page, restructuring the whole customer journey is the perfect place to start. Instead of separate silo'ed customer experiences, you should focus on one single brand user experience.
Right from the awareness phase at the beginning of the buyer journey's funnel to the company loyalty stage, everything needs to be merged as one single experience. This will allow your team to monitor a prospect throughout the entire funnel.
However, the biggest challenge that companies face when trying to devise a single user experience is to get a comprehensive view of the prospect. Such situations call for the use of technology.
The most powerful technology that companies with firmly aligned sales & marketing team use are CRM, email marketing, automation, and analytics.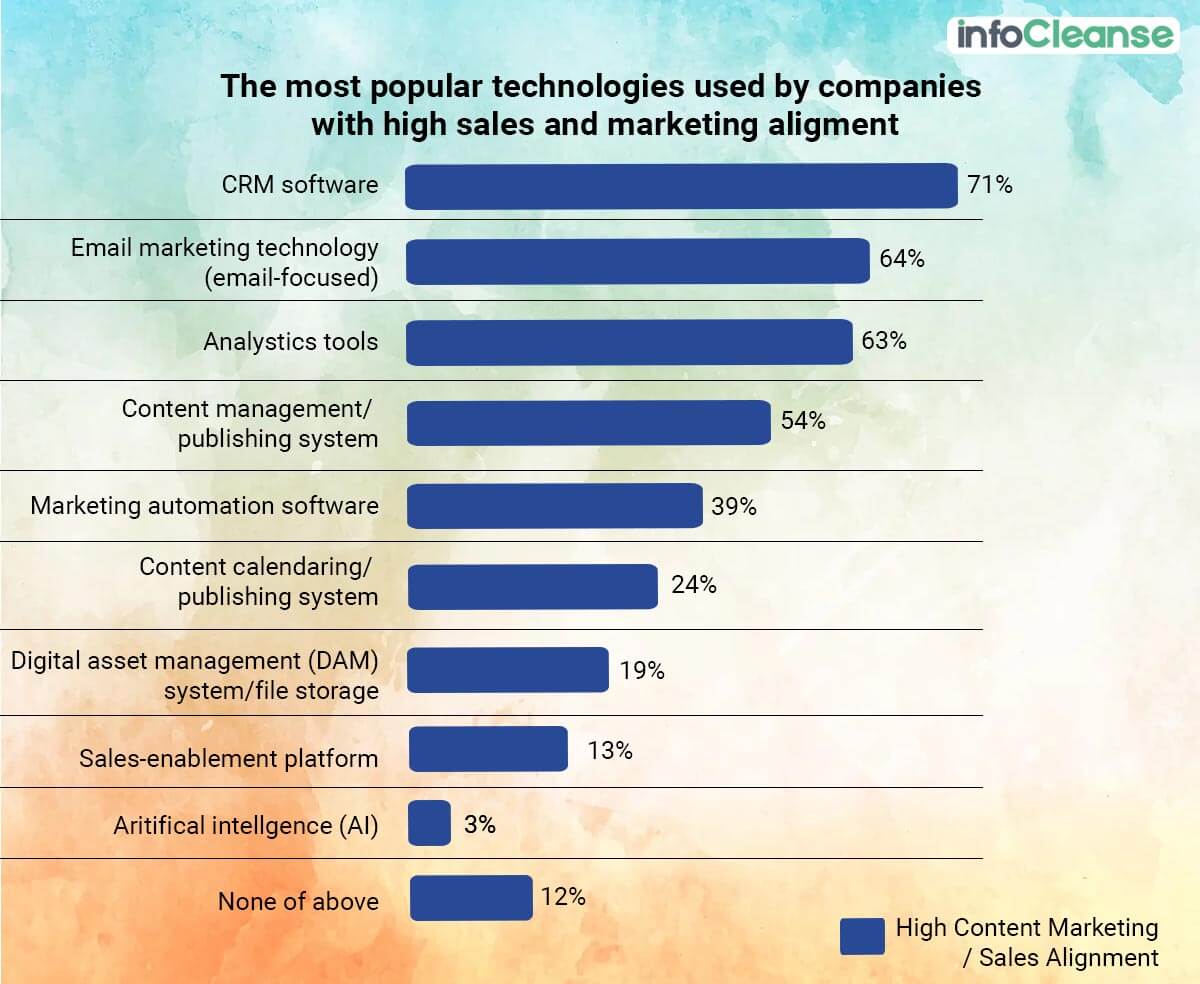 Employing the right technologies and systems will give you a comprehensive view of a client, and in doing so, it'll enable your sales & marketing team to act decisively and quickly to offer more value to prospective clients at every phase of their journey.
Create an SLA (Service Level Agreement)
If you aren't familiar with what an SLA is, it's basically a formal contract between or agreement between Sales and Marketing. This contract outlines the responsibilities of each department and has to be made when sales and marketing sales meet initially.
Using shared definitions and goals, establish clear expectations for both departments, followed by the metrics you'll be using for measuring success.
The sales can include follow-up frequency, follow-up time, and follow-up percentage of leads. Marketing goals can include revenue, opportunities created, qualified leads generated, and leads generated. Though this might seem somewhat unnecessary and formal, it's an essential step to take for sales & marketing alignment.
Moreover, sales and marketing alignment research have shown that organizations with an active SLA experience a 30 percent increase in ROI per year as compared to businesses without an SLA.
Promote Collaboration
To promote real collaborations, regular meetings and shared knowledge is required. Weekly discussions between sales and marketing will ensure uniform or consistent messaging and also keep both departments informed about the ongoing campaigns.
If your sales team is constantly on the move, there are various communications channels to help you with. Devise a message board, schedule conference calls, and use every resource that is available to facilitate collaborative solutions that fulfill everyone's needs.
This tactic of collaboration can help b2b businesses yield great results. This can be done by ensuring that both departments take part in discussions when defining who their ideal prospects are and the actions that need to be taken at each phase of the client's journey to trigger conversions.
Ultimately, this will result in both departments collaborating throughout the prospect's cycle, thereby ensuring stronger leads. It also ensures that sales receive the necessary marketing support through processes and programs.
Invest In Tools That support Alignment
The easiest way to align sales & marketing is by investing in tools that integrate. By working with technologies that integrate, workflows and data no longer need to be kept in different silos. This ensures better communication and offers both teams more information about the other's best practices, common challenges, and daily activities.
When creating your technology stack, review your CRM, B2B contact database, content management systems, prospecting tools, and other software your team uses. Make sure that these tools are accessible to both departments and also work with one another.
The Bottom Line
As a B2B business, your top priority should be to have your sales & marketing team working together. When both of your teams are aligned, you'll have the ability to unearth distinct information about the sales process, adjust and optimize your marketing & sales tactics, as well as create new opportunities for your business and boost revenue.