The US Law firms industry is expected to reach a value of USD 1232010 million by 2030 and grow at a CAGR of 5.08%, which is higher than the overall economy. A significant increase in businesses has created an excellent potential for the industry However, more assistance will have a profound impact on the growth of the legal industry In the US, there are about 1.3 million lawyers, i.e., for every 1,000 citizens, there are only four lawyers. These numbers indicate tough competition, making the legal market a playing field for B2B businesses and service providers.
Going by the statistics and the revenue growth, a myriad of B2B marketers will be trying to tap into the potential of the legal industry. So, marketing to law firms takes work; only with the right strategy will you be safe in the rat race. If you are looking to sell to a law firm, here are the best ideas for you to devise a successful strategy and optimize your ROI.
"It's important to remember your competitor is only one mouse click away."
– Douglas Warner III
1.  Initiate Email Marketing Campaigns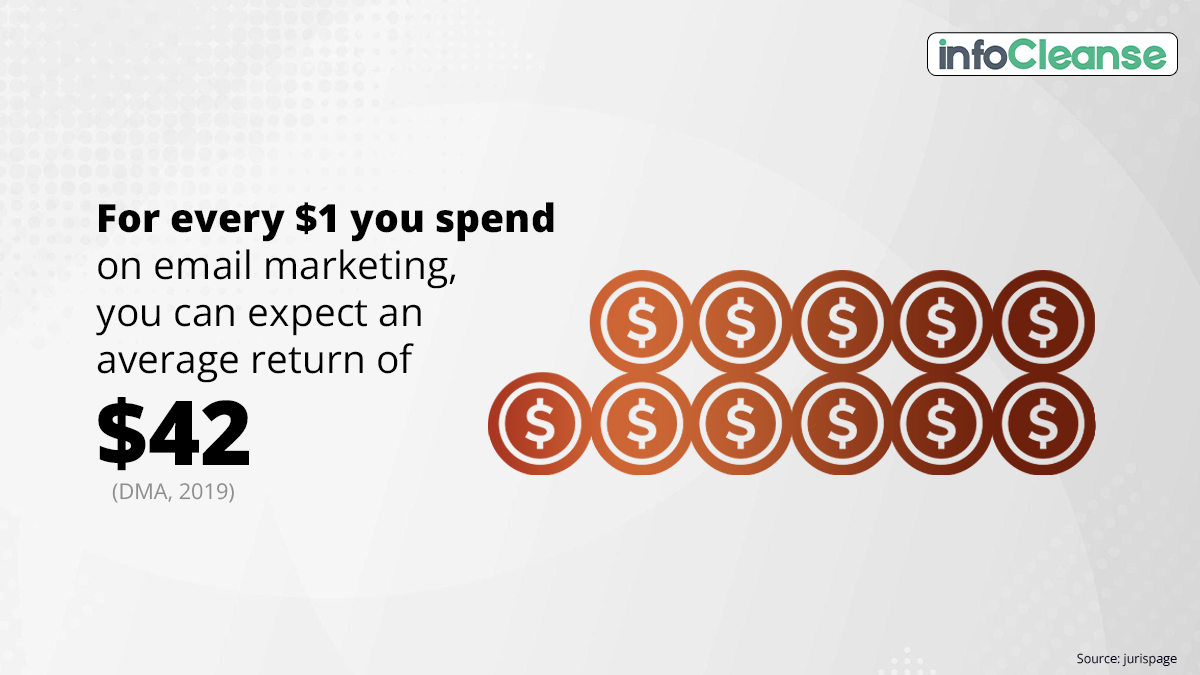 Email marketing is one of the essential outbound tools available to secure leads for a B2B business. 89% of businesses prefer email as the primary touch point to generate leads. In spite of using social media, email remains one of the best ways to get in touch with both current and prospective clients. 60% of marketers claim that email marketing generates the highest return on investment.
Major benefits include:
It can help you establish your business's credibility
Retains client
Converts new leads with minimal effort
To ensure the success rate of your campaigns, you can avail a well-segmented database of law firms . Accurate and segmented data in the database will help you target niche-specific legal firms through your email marketing campaigns. 
Leverage Newsletter Marketing
Newsletter marketing is essential for B2B businesses to maximize their client reach. Newsletters with details about your services and recent case studies will show your clients the value proposition your business can add to their legal firms. It has other advantages besides stabilizing the flow of information and increasing awareness about your services.
Major benefits include:
Keeps existing clients in the funnel
Helps to connect with new prospects
Newsletters let you control the buyer's journey, enabling you to stay on top of the client's mind. It is also an inexpensive way to reach out to a large audience.
2.  Identify And Reach Out To Key Decision-Makers
Marketing to law firms can be challenging as companies have different decision-making processes and decision-makers. In a few law firms, decisions are taken by a department or a head of a department. In some scenarios, a CEO who is not an attorney or a board is involved in taking a call on purchasing services. So, your business must identify the key decision-makers and reach out to them. To achieve this, a full-proof database of qualified and verified prospects alone will help you contact the key decision-makers.
Pitch In Benefits And Features Separately
It is always good to know the features and benefits of your business and pitch them separately. Any quality your service has is a feature, and the advantage it delivers becomes a benefit. It is easier to sell your services to a prospective client based on the benefits as they understand them better. By presenting benefits and features separately, you can deliver the right message of interest to the target audience. It also paves the way for converting them into successful buyers.
3.  Use Case Studies To Foster Confidence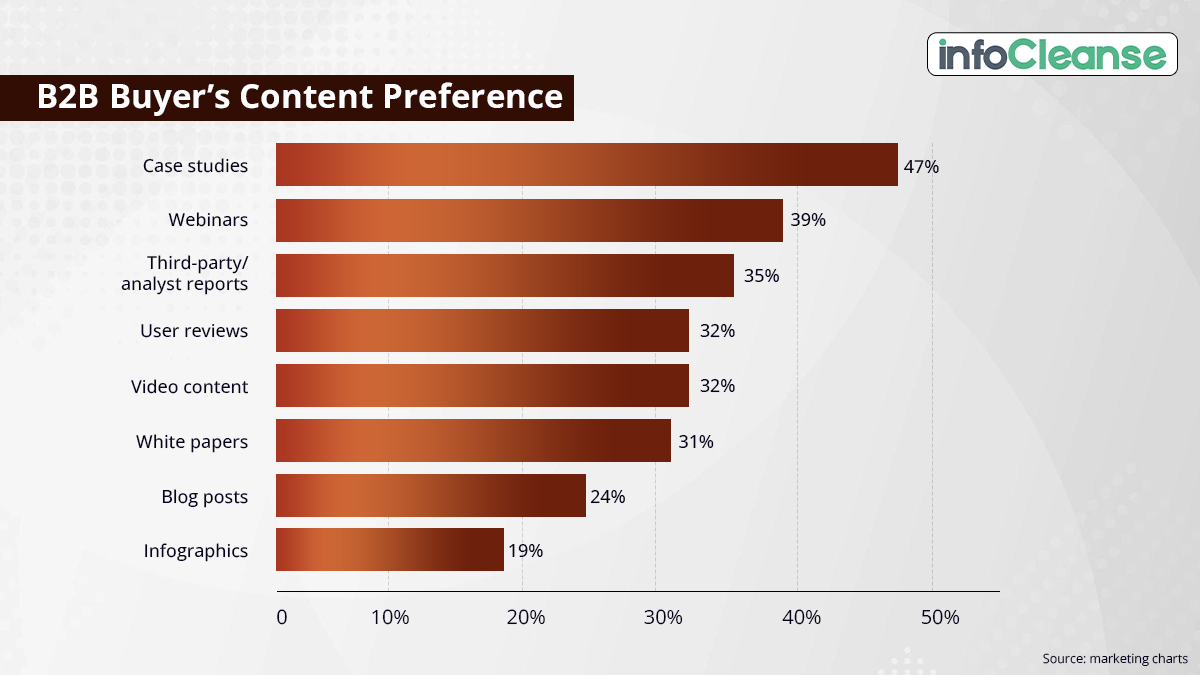 Word-of-mouth marketing can create wonders for your business. Case studies should be included in the to-do list when creating a strategy to target legal firms. They are persuasive content businesses can use to highlight the value of their services through storytelling. A case study usually consists of four sections, a background, challenge, solution, and result. It effectively showcases the pain points faced by the client and how your business alleviates them.
Major benefits include:
Shows the relationship between your business and the client
Captures the context and live reality of clients
Visually appealing case studies positively impact businesses. They aid in client acquisition as they are backed by statistics, detailed results, and findings.
While marketing to law firms, a detail-oriented case study style will be best fit to influence a senior-level exec or purchase decision-makers as they analyze the costs and benefits of buying your services.
Also, one more approach to employing case studies to boost your business prospects is showcasing quotes from them and sharing the appropriate links with the visitors to learn more. Here is an example of Hubspot featuring its case study pages.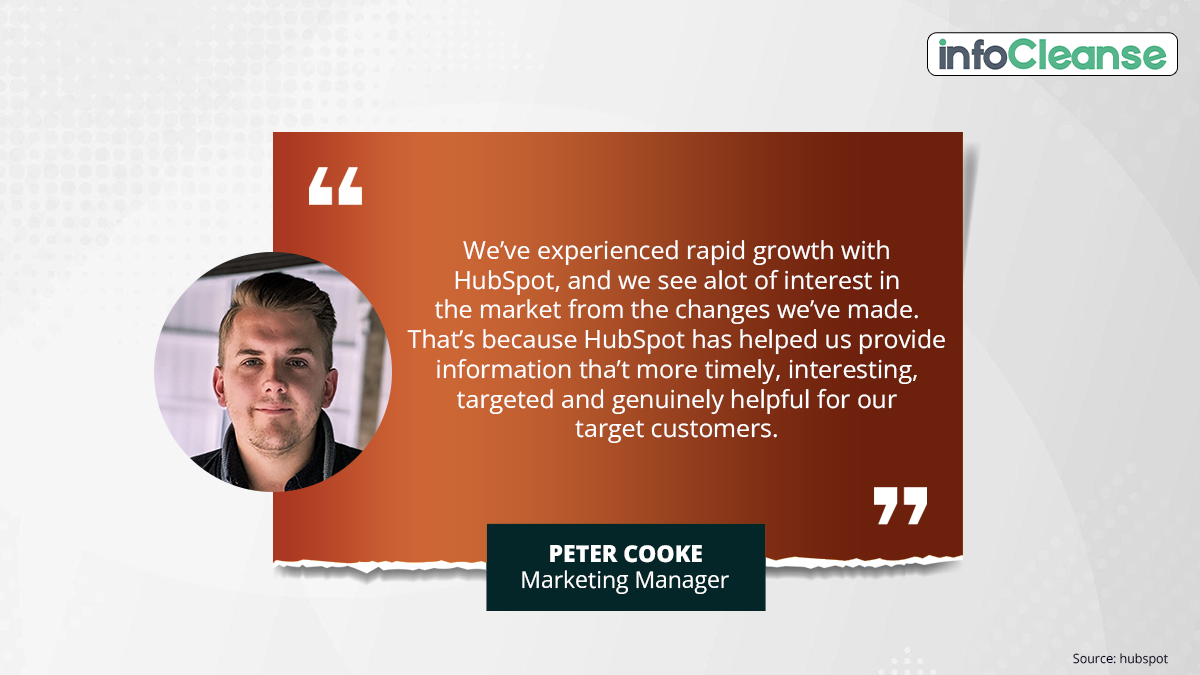 4.  Avoid Breach Of Privacy
You ought to understand the rules and regulations of the legal industry concerning digital and other marketing if you are approaching law firms as a client. You should adhere to compliance guidelines to stay out of trouble. It would be difficult for law firms to refuse your proposal if you ensured that your business offers solutions for their specific challenges.
Wrapping Up
Marketing to law firms is definitely tricky. However, you can be on top of your game by understanding what type of law firms you want to associate with and formulate a strategy accordingly. You can successfully rope in law firms by understanding what you need to sell to them and perceiving the nuances of the legal market.
By leveraging these best ideas, you can market your services or products to legal firms, become a solution provider, and witness a massive increase in your business' ROI.