The era of cyber-physical systems introduces a pivotal technological landscape. Manufacturing industry 4.0 is a transformational phase, including a cohesive blend of machines, sensors, and IT systems working in tandem.
Recently, industry 4.0 has been trending amongst corporate and academic enterprises. In fact, the past two years witnessed over 50,000 academic papers on this intriguing technological shift. Knowing the amalgamation of such cutting-edge techniques can prove highly beneficial for a business.
This knowledge can enable you to embed lucrative changes in your production process. So, scroll ahead to understand the engrossing advancements in the manufacturing sector.
Manufacturing Industry 4.0 – The Breathtaking Innovations
Gary Coleman, the senior client advisor of Deloitte Consulting, perfectly explains industry 4.0 —
'The Fourth Industrial Revolution is still in its nascent state. But with the rapid pace of change and disruption to businesses and society, the time to join in is now.'
Businesses should adhere to his statement and evaluate how these innovations can transform their output.
1. Artificial Intelligence (AI)
This technology is prominent in the digital domain. However, manufacturing industry 4.0 also consists of an array of innovations, including AI and machine learning.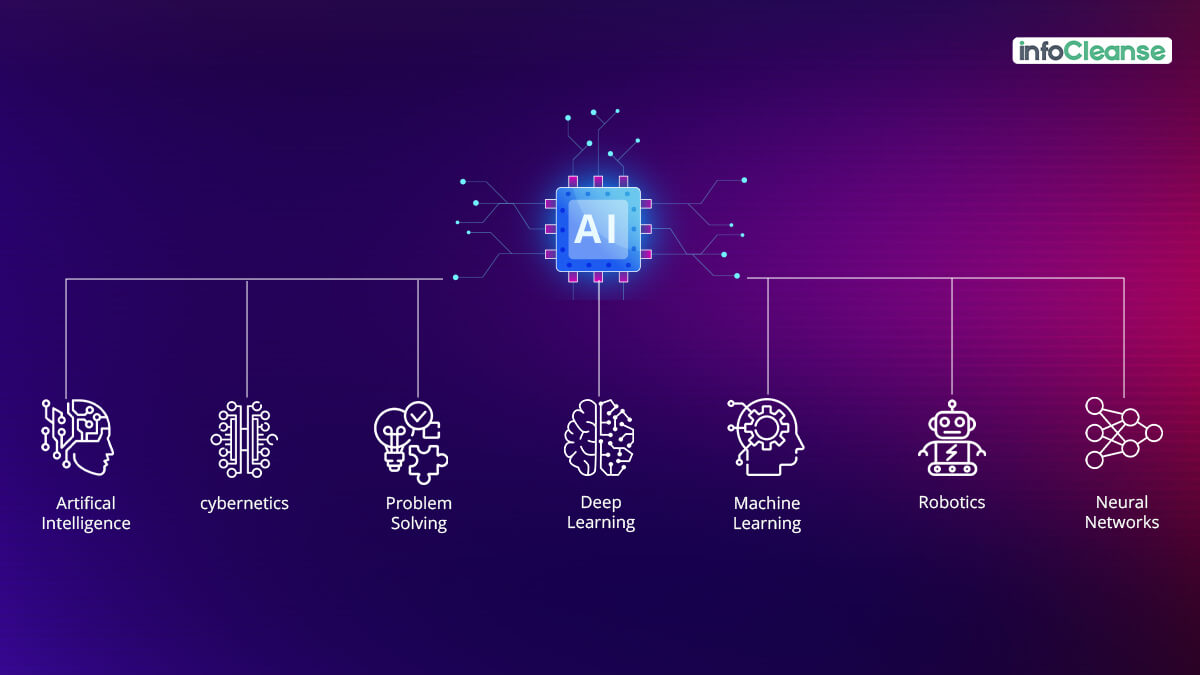 Here are some of the noteworthy AI applications:
Smart factories
Optimized supply chain activities
Connected manufacturing units
Computer vision
Generative design
According to a recent Forbes survey, 49% of automotive and manufacturing respondents feel that AI is critical for their operational success.
You can explore Audi's implementation of AI for the optimization of quality inspection. The brand uses machine learning-based software to identify fine cracks in sheet metal parts. So, manufacturing industry 4.0 has become one of today's most exciting tech trends.
2. Seamless Integration of Horizontal and Vertical Systems
The combination of departments in manufacturing industry 4.0 is gaining promising strides. Data integration technologies empower companies to develop automated value chains.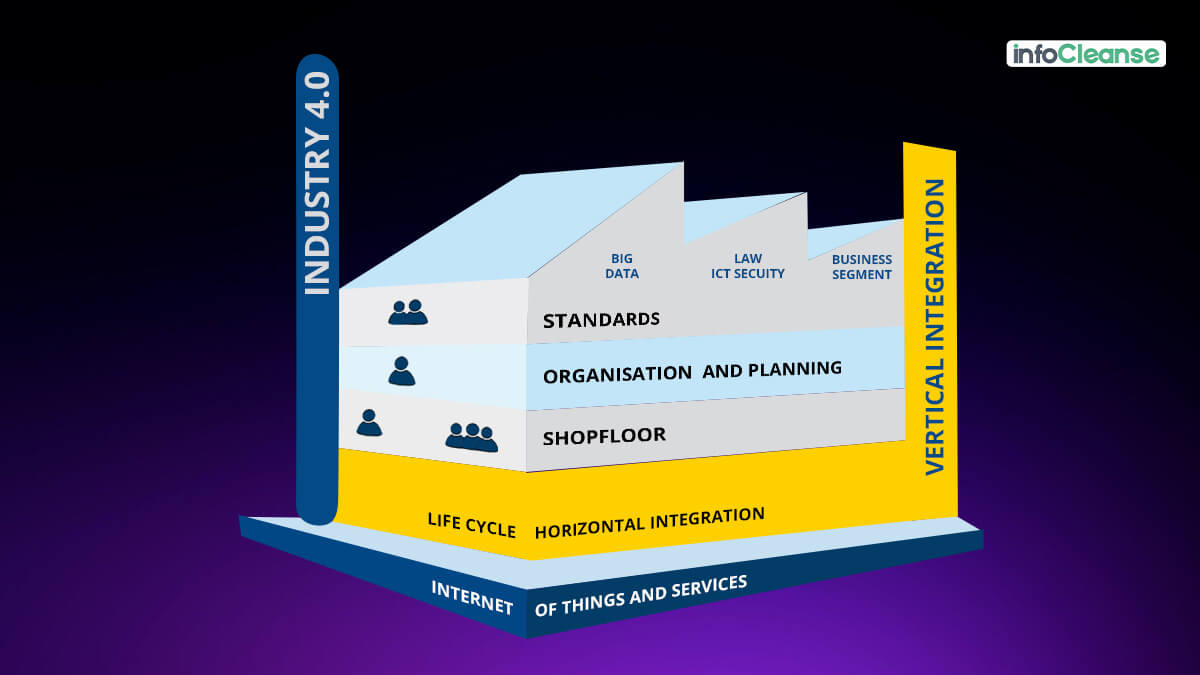 This integration can unify the following departments:
Design
Manufacturing
Quality analysis
Notably, industry 4.0 provides an opportunity for organizations to create smart factories. For instance, it is now possible to integrate machines and production units using cloud technology. This swift interconnectivity can reduce downtime as the equipment communicate and adapt to the dynamic manufacturing demand.
AirDesign from Boost Aerospace is an apt example of this innovation. This platform helps in the effective collaboration of manufacturing and design using the 3D Experience cloud technology. Notably, the implementation of this industry 4.0 innovation has helped reduce the design modification duration by 25%.
3. Utility of Big Data and Analytics
Big data has a weightage of 54% and is one of the vital contributors to the manufacturing industry 4.0. The analysis of data requires the effective implementation of AI and machine learning.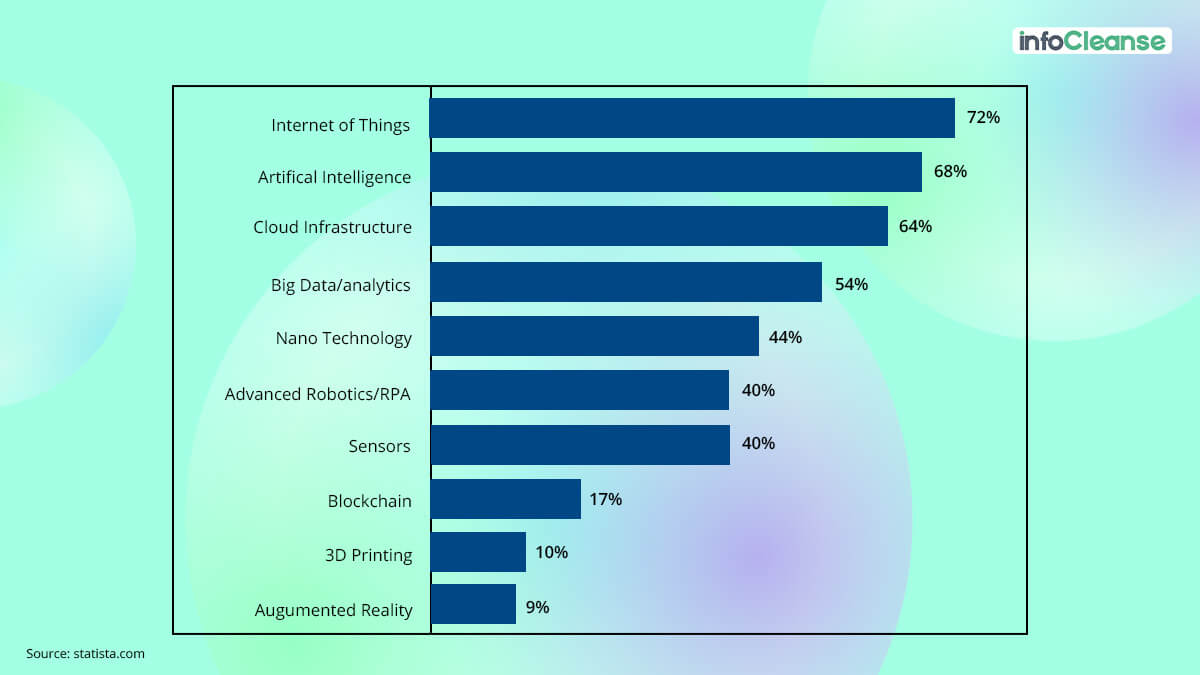 These technologies can offer valuable insights into various manufacturing processes. For this purpose, you should have fool-proof data management strategies in place. A technically-sound implementation of big data and analytics can bring the following changes:
Optimization in production quality
Reduction of energy wastage
Enhancement of equipment service
Refinement in predictive maintenance
The evaluation kits from Infineon are suitable examples of such an innovation in manufacturing industry 4.0. These tools use data through the use of sensors. Next, the evaluation takes place through an algorithm and predictive maintenance AI.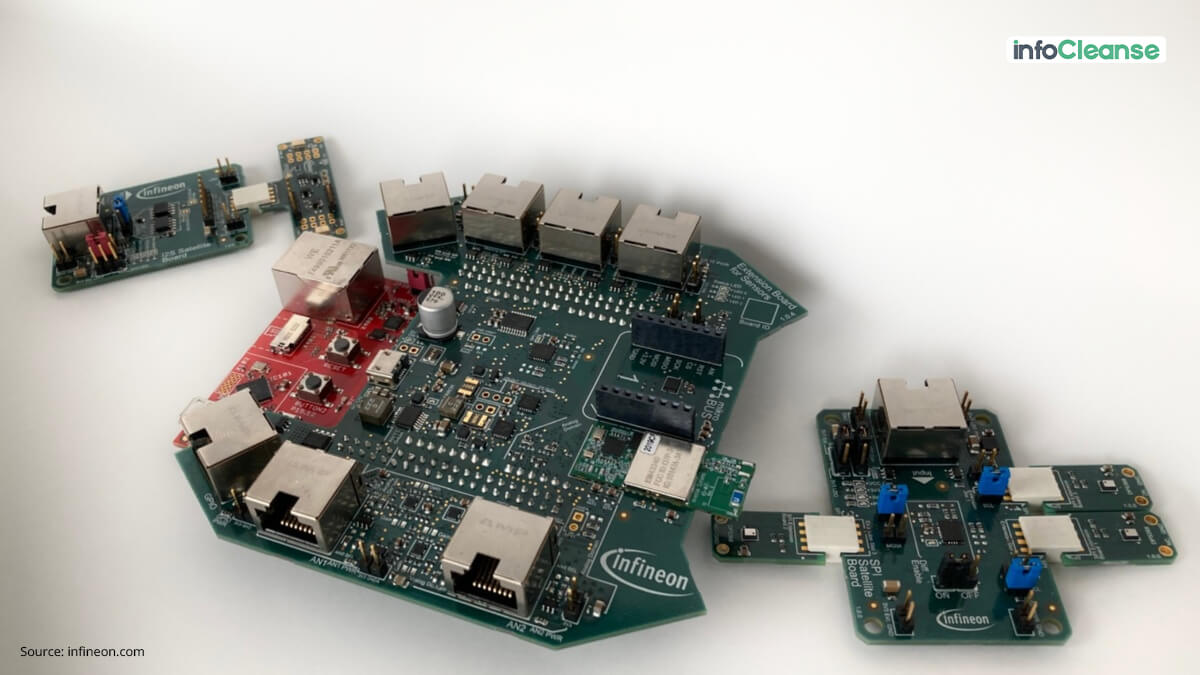 This way, monitoring the troubleshooting activities of devices becomes possible. The primary foundation of this technology is advanced data analytics, comparison, and AI evaluation.
4. Cloud Systems and Infrastructure
Before manufacturing industry 4.0, the cloud was more prevalent in information technology. Today, cloud computing has become essential to store and utilize gigantic volumes of data relevant to production activities.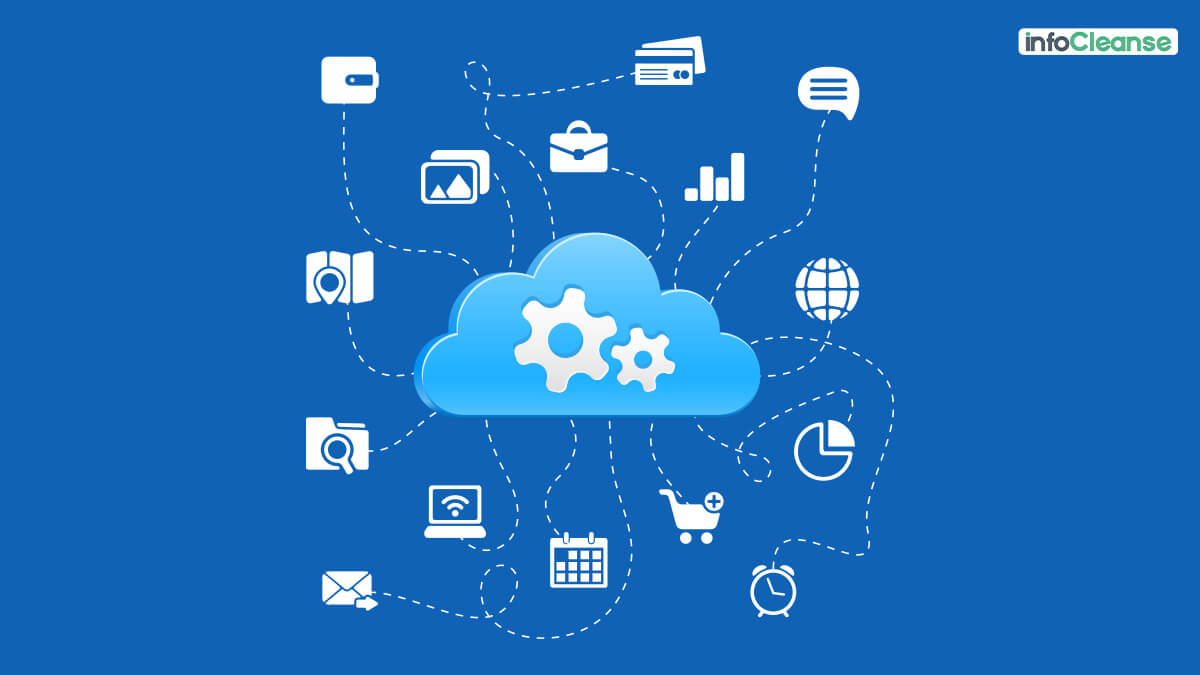 With an annual revenue of USD 400 billion, this technology is becoming quite significant for all types of organizations. Here are the reasons for the widespread utility of cloud systems:
Remote access
Fluent monitoring of data
Improvement in operational efficiency
A recent innovation in this sub-segment is the Volkswagen Automotive Cloud. This platform offers data-driven insights and predictive maintenance alerts by providing several easy-to-access tools.
The Effect and Future of Manufacturing Industry 4.0 
The scope of this array of integrated technologies in refining production activities is immense. This broad utility has a positive impact on transforming the manufacturing sector.
Here are some of the primary benefits that you can receive by implementing industry 4.0:
Efficient asset utilization: The use of automation, the Internet of Things (IoT), and autonomous robots can help utilize resources optimally
Improvement in employee performance: Innovations like safety due to the implementation of IoT elevate the productivity of workers
Optimization of processes: The interconnectivity of machines and software refines the output of manufacturing processes
Refinement in supply chain management: Advanced data analytics and machine learning allows for integrated networks, thereby augmenting logistics, supply chain, and inventory management
Overall, the future of manufacturing industry 4.0 promises an optimistic overhaul of the core sector. The optimal advancement in data analytics, implementation of artificial intelligence, and collaborative robots are some remarkable additions.
Also, augmented reality, additive manufacturing, simulations, and machine learning considerably improve product output. All these aspects make it lucrative to leverage this blend of technological revolution.
Wrapping Up
Manufacturing industry 4.0 promises high productivity and refinements in the traditional production setup. As a business, you can include technologies like AI and machine learning to augment the existing work structure.
Consequently, it will become possible to extract the best output from this technological transformation. In addition to integrating machines and digital solutions, you can also use robots and techniques like 3D printing.
The main intention of industry 4.0 is to create a cohesive system of machines and digital modules. So, the advent of practical innovations can potentially encourage several industries to utilize this integration.
Ensure that your company is well-versed in efficient data management and analytics. After all, amplifying the existing processes requires a planned approach and seamless inclusion.