If you're in charge of email marketing and advertising for your B2B business, then surely you may have heard numerous discussions on the importance of leveraging email appends for growing your listing.
Email is still a significant marketing tool for businesses to acquire customers organically. After all, 81 percent of SMBs still use email for customer acquisition and 80 percent for retention.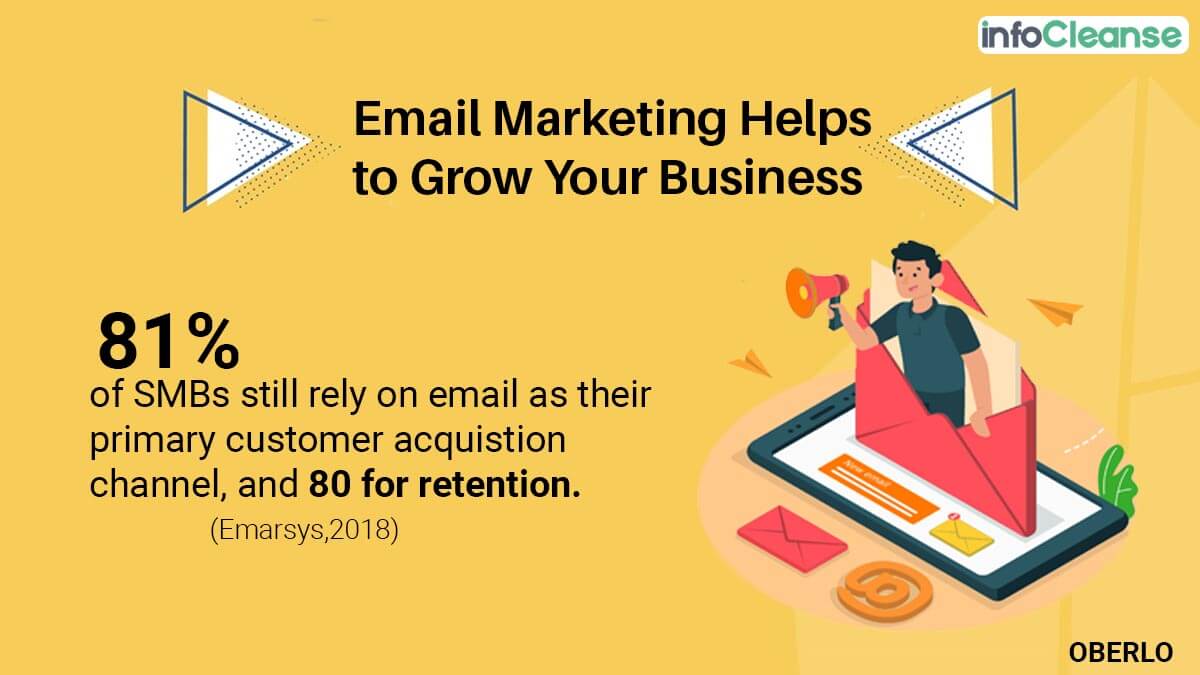 However, there may come a time when your email marketing efforts won't yield the desired results. This could be because your customer database is missing some key information or perhaps, the existing data has become redundant. Plus, with 30 percent of subscribers (source: Convince & Convert) changing their email addresses annually, it becomes essential to update your customer list.
This is where email append can help. Email appending offers plenty of benefits for B2B marketers. For instance, it updates your customer data, which in turn allows you to offer relevant services and content to your existing clients. Experts claim that sending email campaigns to folks who never really opted-in is against Email Append Best Practices.
Through this guide, we'll be discussing everything you need to know about email appending. We'll also be taking you through some of the top Email Appending Best Practices to make sure you do it right. Let's start with the basic.
Email Appending: What It Is and Why Your Business Needs It?
 "Email Appending is indespensible to companies because it helps grow its databases."
Essentially, email appending is a process that involves adding emails to the existing customer database.
It's a marketing practice where it retrieves customer data like location and name, matches it with the vendor's directory, and collects the missing information.
Consequently, it helps in improving your email marketing metrics. Experts suggest that the use of email appends can lead to an average increase in your ROI by 30%.
The email addresses in your database will only be valuable if they continue to be deliverable. But the problem is that email marketing databases tend to naturally deteriorate by approximately 22.5 percent each year.
Fortunately, the right email appending services will help in adding the missing emails of your target audiences and even help you in correcting errors like invalid domains and emails.
Email Append Benefits
To achieve favorable results through your email marketing efforts, you need to have a verified email list of your existing and potential customers. Lack of such an email list could make it difficult for businesses to execute successful email marketing campaigns.
Email appending is among the many practices that can help in boosting your sales, generating site traffic, and improve customer retention through B2B email marketing.  The following are some benefits of procuring an email appending service:
· Response Rate Improves
Undeliverable emails translate to a massive loss of both your time and resources. Consequently, working towards minimizing this number should be your priority if you wish to garner better response rates from your email marketing campaigns. The right email appending service will help reduce wastage of your time and money by offering updated emails. This will ultimately improve the response rate of your email campaigns.
· Data Cleansing
Another great advantage of email appending is that it does more than just retrieving missing data about your customers. It also corrects errors such as miss-spelled names, localities, inauthentic identities, invalid email addresses, and other important data fields. This way, you have a customer database that is reliable, up-to-date, and accurate.
· Database Integrity
With the ideal email appending solution, you'll have access to an extensive database. It will also let you retrieve the demographic data of your audience including their salary, name, age, and other relevant details. Overall, email appending helps in building effective marketing tactics that meet your business requirements.
· Affordable Pricing
When you procure the right email append service, you'll be able to deliver messages to the appropriate inboxes at the most appropriate time. It's also worth noting that the cost of purchasing a database that includes a list of prospective clients is much higher as compared to updating your existing one. As such, email appending will allow you to explore your existing contacts' potential at affordable pricing.
Now that the basics are covered, let's focus on some email append best practices.
Email Appending Best Practices
Make Sure Your Data Vendor Receives The Right Details
Firstly, make sure you provide information (in a suitable format, preferably Excel CSV file) to the data vendor needs. By providing the right contact details, you can attain a better match rate.
Your In-house Data Quality Matters
The quality of your in-house data can also affect your match rate. If your data is old, inactive (which happens when employees switch companies or when customers change their address), it could negatively affect your match quantity. To prevent this from happening, make sure you perform data validation updates frequently such as monthly, quarterly, or even biannually.
Give More Importance to Active Consumers
If your database is large, consider separating the data of the most active clients so you can update their emails initially. Then you can focus on other older records.
Always Work With a Reputable Email Append Service Provider
Finally, make sure you procure the services of the most reputable email appending vendors. In doing so, your IP address won't be blacklisted as such data providers comply with the DMA( Data and Marketing Association) regulations.
 Bottom Line
Email marketing is an important marketing tool in B2B sales, especially because it can have a significant impact on your customers. According to Salesforce, 73 percent of B2B executives favour email marketing.  To them, it's an essential medium for growing their business.
That being said, there is one never-ending problem here – Your prospects' email addresses can change at any given moment. Some may even choose to unsubscribe to your emails. In such a case, email appending solutions can help in keeping your database relevant. Plus, you can expand your list by including more emails and updating the existing ones.
Email appending ensures that you have authentic data, which is incredibly useful as you can engage with your target prospects more effectively. Moreover, you experience a traffic boost to your site and less email bounce rates.