The success of your email marketing campaigns greatly depends on the quality of your email list. Every year, almost 30% of your list accumulates subscribers who report you as spam, who bounce or never clicks or opens your email. As a result, your email database builds up a churn of unengaged subscribers who wastes your efforts and money invested in marketing activities.
A clean list of email addresses can help you get into the right inbox, whereas a bad email list can trigger your spam score. If your list comprises invalid or inactive addresses, it will cause an increase in email bounce rate and hamper your email deliverability rate. The moment you notice a drip in your email campaign metrics, you must take up the cleaning task without any further delay.
Are you confused on which cleaning tool or software to use to verify and clean your email list?
We have you covered as we bring you a well-researched list of 10 Best Email List Cleaning Services that can efficiently address your need to maintain a healthy email database.
Let us get started!
Comparison Of The Best Email List Cleaning Software Services

Services
Pricing For 50,000 Emails
Guarantee %
MX Record Verification
Ratings
VerifyBee
$199
NA
Yes
4.0/5.0
ZeroBounce
$400
NA
Yes
4.3/5.0
InfoCleanse
Pay as you go (Best option)
95%
Yes
5.0/5.0
MailboxValidator
Pay as you go
NA
Yes
5.0/5.0
NeverBounce
$250
70%
No
 4.8/5.0
Xverify
$250
NA
Yes
 4.9/5.0
QuickEmailVerification
$200
NA
Yes
 4.9/5.0
BriteVerify
$500 (Best option)
NA
Yes
 4.1/5.0
MailFloss
$120
NA
Yes
 4.4/5.0
Hunter
$120
NA
Yes
 4.0/5.0
What is Email List Cleaning? 
An email list comprises email addresses of customers collected through various channels such as website, subscription forms, blogs, and more for sending them marketing and promotional materials. Over time, this email marketing list may become old or obsolete and consist of irrelevant data that is no longer useful.
That is when email cleaning service comes into effect, and perhaps it becomes the need of the hour. Leveraging email list cleaning services, organizations like yours can get rid of the old or inactive data from your email database. The process of removing these contacts that are no longer engaging or active and is only increasing your email bounce rate or spam rate is what email cleaning services stand for.
Every year, email lists decline in quality by around 20-30%, which indicates that email lists need to be cleaned and updated to maintain its quality. Many email list cleaning service providers in the industry promise to keep your B2B list relevant for use in your email marketing campaigns.
Signs You Need to Avail Email List Cleaning Services
Do you see a sharp increase in your email campaign bounce rate or unsubscribe rate? Are your targeted customers seem disengaged in your campaigns and are not even opening or clicking your emails?
Besides these, email marketers may also notice other symptoms like:
Higher spam complaints than usual
Email deliverability graph going down the hill, and
Customers not converting
Bingo! You got the clue that your email list needs immediate cleaning.
A clean email list is the backbone of any successful email marketing campaign. Often, it is recommended that businesses clean their email list at least once every six months. However, the time frame may vary from business to business, depending on their email database size and volume of emails sent to customers.
If your email performance metrics are dipping at an unusual rate, it is time to scrub your email list.
Taylor Sicard, Vice President of Growth at Rare.io, explains, "Knowing the value of an email really impacts the effects of your marketing – you need to have a clean list to properly calculate what an email is truly worth to your brand."
What are the Benefits of Email List Cleaning Services?
Quick Email Validation: An email list cleaning service in the USA or any other region helps to quickly validate emails right at the beginning as soon as an individual sign up for your email newsletter to ensure they are not fake. The service makes use of bulk email validation tools for validating emails in more numbers.
Identify and Fix Common Typos: As per Juniper Research, more than 20% of email registrations contain the domain, typos, and syntax errors. An email cleaning service helps identify common typo errors like the misspelling of email addresses and automatic correction of such typos—for instance, correct @outlok.com to @outlook.com.
Verifies Email in Bulk: Email list cleaning service providers verifies email in bulk, saving time and cost, making the process more efficient.
Helps Block Fake Emails: The presence of fake email ids can screw up your email list. This is when using email cleaning service tools to help block those addresses and prevent them from entering your database.
4 Tips to Get a Clean Email List 
Businesses today understand the importance of a clean email list. A bad email list can ruin all marketing efforts and adversely impact email marketing ROI. That is why, for 70% of the B2B companies, maintaining email list quality is a top priority.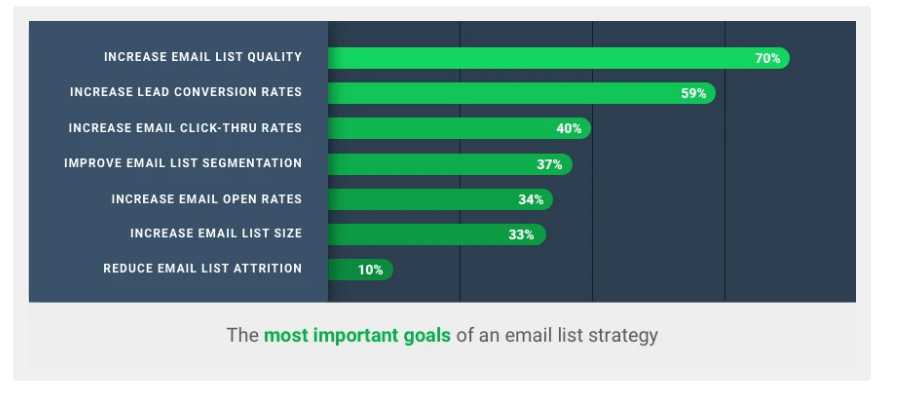 Image Source: onlygrowth.com
 Make Use of Double Opt-in System
Once a user subscribes to receive email communication from your brand, send them a reconfirmation email to be double sure about their subscription. While many may sign up for the first time, but only those who are serious will double confirm their subscription and prove that they are interested in receiving content from your brand. Implementing a double opt-in strategy will ensure no fake emails enter your database and keep you list clean.
Remove No-action Subscribers
There is no use of keeping no-active subscribers on your list as they never open your emails. Sending them emails not only wastes time and money but also puts your efforts into vain and screws up your overall email marketing metrics.
So, start with removing all those contacts who have not responded in the last 90 days to your email campaigns.
Request Your Contacts for Feedback
It is essential to determine if your contacts are loving your campaigns or email content or are not interested in what they have been receiving from your end. When you are trying a new campaign format or content, ask for customer feedback to know their opinion.
You can even request contacts to set how frequently they want to receive email communication from your brand or what topics they find interesting, etc. You may conduct polls as well for more in-depth insights on subscriber content preferences.
Take the feedback of contacts and build your email campaigns accordingly so suit their needs and interest with regards to emails. If contacts are still disengaged even after all these efforts, do not hesitate to remove them from the list.
Run Re-engagement Campaign
Sometimes, your subscribers' low engagement may be due to the content you provide and not with the overall brand. That is why before you scrub your email list, once try to revive their interest to re-engage them.
Send them 'we miss you' emails as part of your re-engagement efforts. Such campaigns may comprise offering a gift or a discount coupon. But make sure amidst such offers, you must not avoid focusing on your content quality. Try to re-engage contacts through quality content, along with offering them freebies.
If, even after sending re-engagement emails requesting to reconnect, does not yield a response from subscribers, then email only critical events or product news to them. On the other hand, if they respond, ask them to keep your emails from the spam folder, which may be one reason for their disengagement.
Offer Easy Unsubscribe Option 
Make sure not to make the unsubscribing process difficult or time-consuming for contacts. It is not at all a right great idea to keep your unsubscribe link hidden from subscribers because if they do not find the unsubscribe option easily, they will end up marking you as spam. And if that happens, this will damage your reputation.
We know that offering an easy option for clients to leave may be a bit risky. But if your email content is engaging, then your contacts will not even look at the unsubscribe button.
While some may recommend getting your list clean yourself but professional expertise and assistance is what you must opt for to get the best results.
Now, wondering whom to reach out to for email list cleaning done?
We got you covered! 
Therefore, we have crafted a list of 10 best email list cleaning service providers to make the journey ahead easier for you. You can trust their best quality service to keep your list updated, verified and valid for use in marketing campaigns.
10 Best Email List Cleaning Services for a Verified Email Database
Just as having a clean email list is essential, it is equally significant to choose the right email list cleaning service provider or tool to efficiently get the cleaning job done. To make your journey towards a verified email database much easier, we have curated a highly competitive list of 10 best email cleaning services that are reliable and dependable when it comes to maintaining a healthy email list of your subscribers.
1.VerifyBee
VerifyBee is an intuitive customer verification software that offers email list cleaning services, email verification, and email list validation services that can be easily integrated into an organization's existing workflow. You just need to upload your email list on VerifyBee's platform or connect it to your existing CRM or mailing list platform. It will automatically start verifying your email addresses and phone numbers and help identify lead prospects crucial for business growth.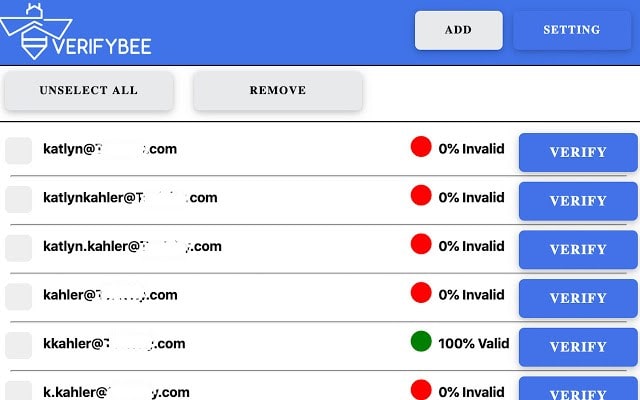 Services provided by VerifyBee includes the detection of spam emails, duplicate addresses, invalid names, typos, fake email ids, etc. This email cleaning software also checks MX records, domain validity, spam traps catchall server detection, and more. The verification platform can be easily integrated with your favorite automation platform or software such as Aweber Moosesend, MailChimp, Mailshake, Platformly, and Lemlist.
Services Provided:
Bulk email verification
Single email verification
Disposable email detection
Pricing Details
VerifyBee is relatively new in the market. Its pricing starts at $19.00 per month, and they do not offer a free version. But you can avail of a free trial.
2.ZeroBounce 
ZeroBounce is an online email validation service that ensures a deliverability rate of more than 98%. The system is designed to help organizations remove invalid email addresses, prevent bounces, and identify spam domains.
When it comes to the email list cleaning services segment, ZeroBounce is one of the best among all other competitors in the market. It uses proprietary technology that uses algorithms to catchall addresses and validates emails that are otherwise mistaken as good email addresses.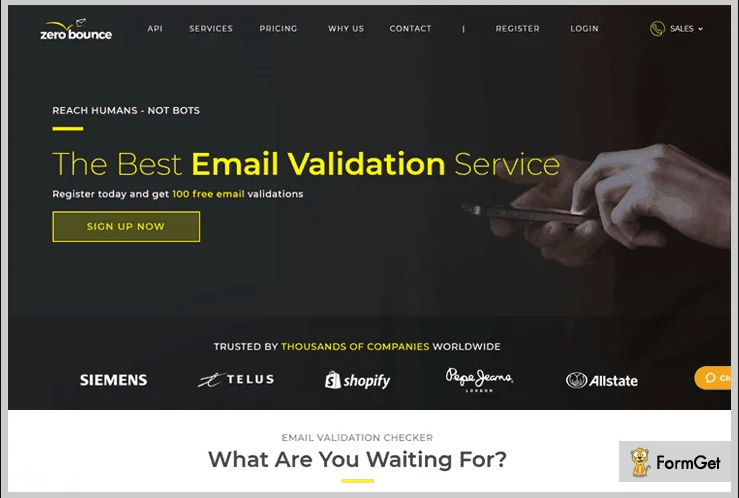 ZeroBounce uses a content delivery system backed by Cloudflare that offers advanced DDOS and advanced firewall protection. The platform also uses military-grade encryption to protect customer data.
Services Provided:
First & last name detection
Location detection
Gender detection
Spam trap detection
Abuse detection
Email bounce detection
Email data append
IP information append
Disposable email detection
Toxic domain detection
Catchall domain detection
Overview reports
Selectable download options
Email validation
Pricing Details
ZeroBounce offers a usage-based pricing scheme that ensures you pay only for the email verification you need. For every 100,000 emails, ZeroBounce charges $400. The platform has multiple pricing plans to suit customer needs.
3.InfoCleanse
InfoCleanse is a leader in the field of email list cleansing services and data appending services. Just upload data on their dashboard or directly send it to the team to get it verified, validated, updated, and cleansed.

Unlike other email cleansing service providers, InfoCleanse does not rely blindly on automatic email validation and verification. They have experienced data scientists who manually check every email address from your list to ensure maximum data accuracy.
Services Provided:
Phone number verification
Email verification
Data scrubbing/cleansing
Data appending
Email appending
Postal appending
Pricing Details
InfoCleanse has multiple pricing options to suit the diverse needs of digital marketers across the globe. They make email list cleansing, email appending, email validation, and verification services at an affordable price. You must get in touch with their sales team for the best deal.
4.MailboxValidator
MailboxValidator is a popular online email validation service that validates email addresses to reduce bounce rate and improve sender reputation and boost conversion rate. It comes with built-in fraud protection to prevent fake or fraudulent accounts from entering the email list. The platform claims to offer up to 96% accurate email cleaning and verification service.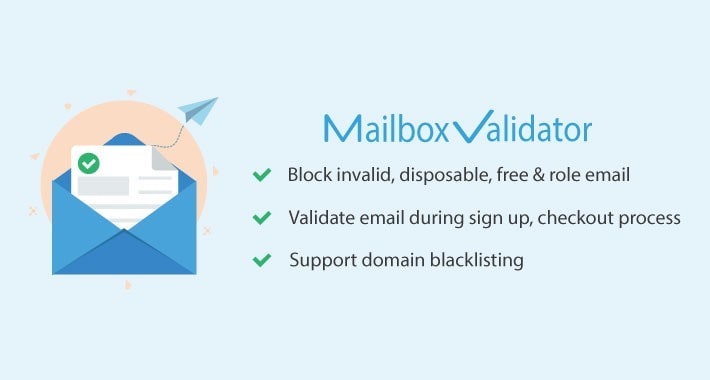 The system is fully automated that helps generate a detailed report of good-bad emails, domains, etc. ZeroBounce uses a restful API to validate a single email address instantly. As part of the verification process, the platform, once connected to the mail server, checks the mailbox's validity to find out if it exists.
Services Provided:
Email Syntax Checker
MX Record Checker
MX Server Connection Checker
Email Greylisting
Free Email Provider
Disposable Email Provider
Suppressed Email Checker
Role Email Checker
Duplicate Email Remover
Bulk Validation Supported
Single Validation Supported
Pricing Details
For cleaning 1,000 contacts, MailboxValidator charges $19.95. The price may go on decreasing with increasing demand.
5.NeverBounce
NeverBounce is one of the fastest and real-time email verification and list cleaning service. The platform verifies and cleanses billions of emails, and it can be integrated with leading email platforms such as MailChimp, Campaign Monitor, iContact, Marketo, etc.
You will need to upload your email list via the web-based dashboard or connect with integrations and let the platform perform its cleaning and verification task. The system uses 20+ steps to clean, validate the mail server, check domain health, and perform verification to reduce your email marketing bounce rate. The service claims to offer an average processing time of 2-10 minutes to validate and clean a list of 10k emails and promises a 99.9% email deliverability rate.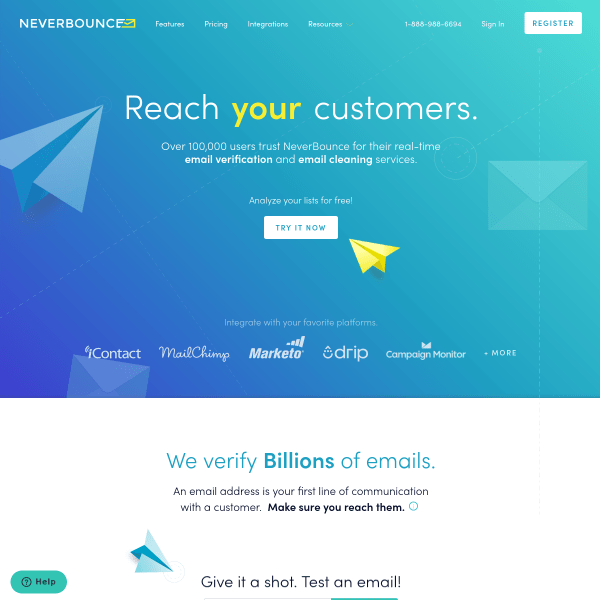 NeverBounce offers the option to easily download the clean list so that you do not have to do any extra work. It comes with a free "Instant Bounce Analysis" that makes recommendations on whether your list requires cleaning.
Services Provided:
Domain check
Syntax check
Mail server validation
Spam trap detection
Catchall server detection
Disposable email detection
Single email verification
Bulk email verification
Email list analysis
Email bounce removal
Results segmentation
Domain health check
Scrubbing
Application integration
Data visualization
Email archiving
Email integration
Quality assurance
Real-time analytics
Real-time monitoring
Real-time updates
Secure data storage
Activity dashboard
Duplicate detection
Data import/export
Mail server monitoring
API
Data verification
Archiving & retention
Bounce tracking
Pricing Details
NeverBounce comes with a one-time subscription model. The platform offers different price plans depending on the number of emails to be verified or cleaned. For bulk verification of up to 10,000 emails, the tool charges $0.008 per email address.
6.Xverify
Xverify offers real-time email verification service designed to reduce spam complaints, remove hard bounces, and improve the email deliverability ratio. Just integrate Xverify's API into your web platform or mobile application and let the email verification tool verify by checking individual mail servers to ensure username exists in the domain.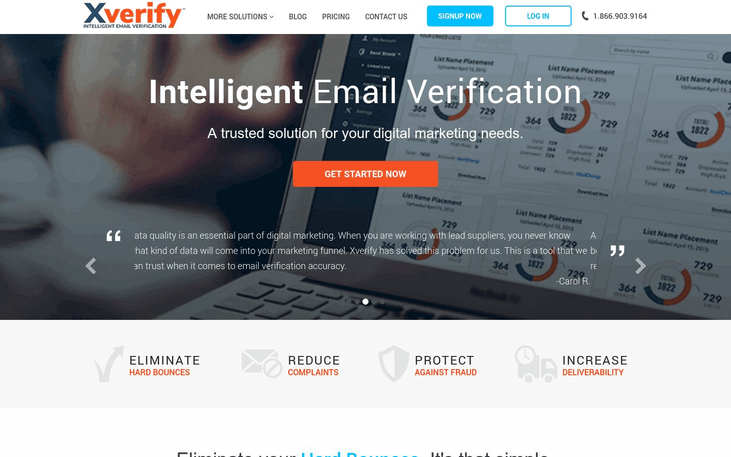 After the verification is complete, the platform provides an easy-to-read report with a complete breakdown of invalid/valid data and a list of email addresses that are blocked and why.
Services Provided:
Spam complaint detection/blocker
Email validation
Name verification
Email verification
Auto-correction
Pricing Details
Xverify uses pay as you go payment model. They charge only when services are used. Per verification, Xverify charges $0.01. Moreover, the more data you verify, the better the discount rate they offer.
7.QuickEmailVerification
QuickEmailVerification is a web-based online email list cleaning service that verifies email addresses in real-time or in bulk with REST API's help. The email verification system validates multiple different stages, from syntax checking to users' mailbox existence checking. The platform uses anti-greylisting technology, and ISP trusted networks to offer accurate results.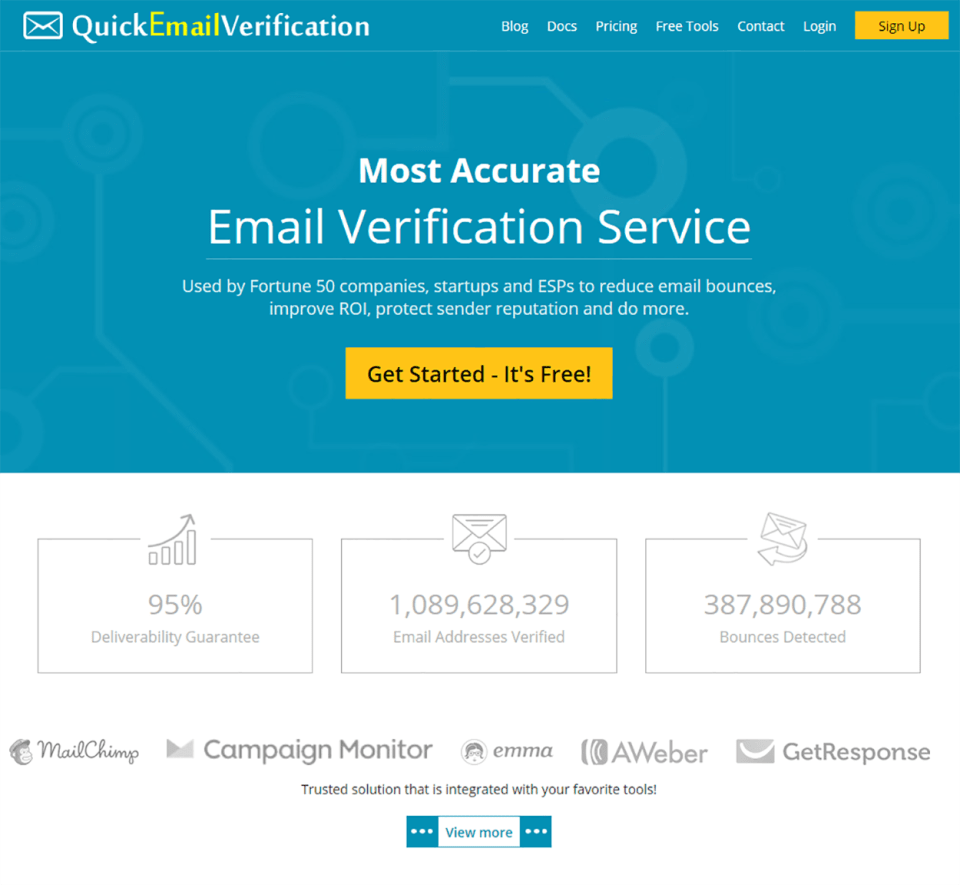 You need to drag and drop your email list in your QuickEmailVerification account, and the verification process starts.
Services Provided:
Domain validation
Email syntax validation
Role email address detection
MX record checker
Free email validator
Disposable email detection
Email typo correction
Catchall email checker
Duplicate email remover
Mailbox existence checking
Pricing Details
QuickEmailVerification offers to pay as you go, monthly, or bulk credit subscription options. The email verification pricing starts at $4.00 as a one-time payment and has flexible payment options to help choose the right plan depending on your budget. They have a free trial option as well.
8.BriteVerify
BriteVerify is a complete email and contact validation & verification tool that verifies email addresses' validity to offer you a clean email list with a reduced bounce rate and higher deliverability ratio.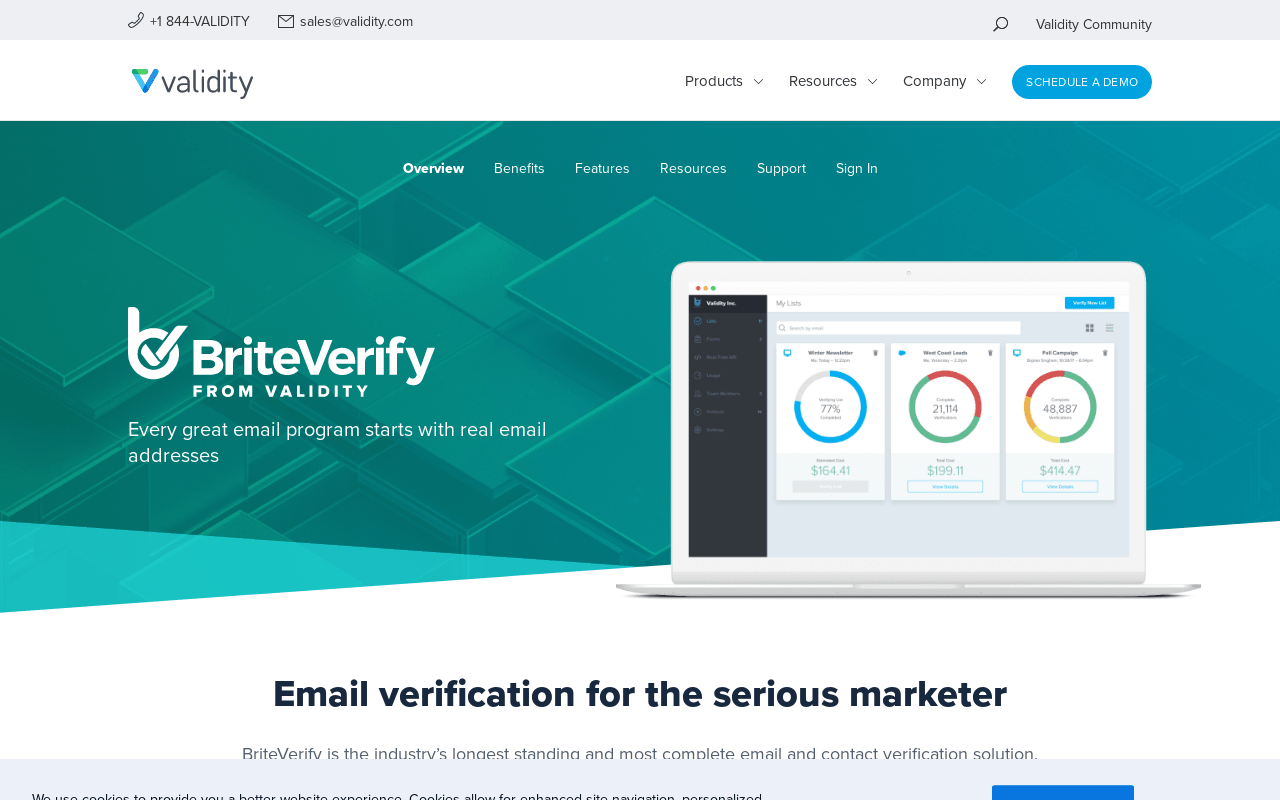 Users need to drag & drop their email list into the BriteVerify window or directly import them from leading email service platforms like MailChimp, SendGrid, Campaign Monitor, and Constant Contact. Once the list is verified, the tool identifies invalid email addresses and removes them to prevent bounces.
Services Provided:
Bad domain detection
Email list import
Email integration
Third-party integration
Email delivery tracking
Real-time email address verification
Bounce tracking
Bulk send
MX record checker
Pricing Details
BriteVerify's email verification and validation service price depend on the number of verifications per month. There are no minimum or setup fees.
9.MailFloss
You will require to connect your email marketing platform with the MailFloss account, set your preferences, and the email list cleansing tool will automatically start removing bad emails to offer you a valid and accurate list of email addresses.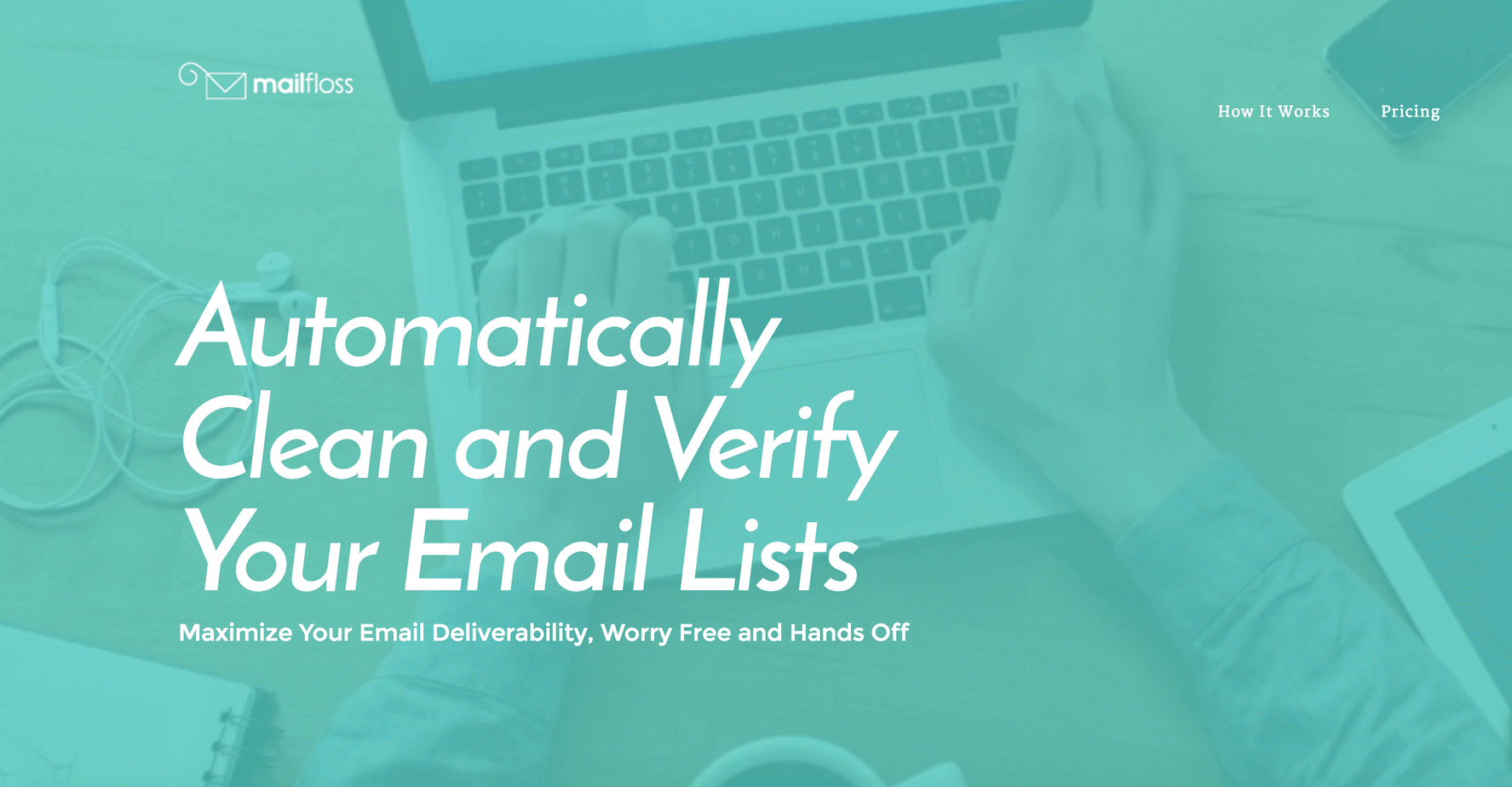 The platform supports integration with some of the most popular email service providers in the industry.
Services Provided:
Single email verification
Disposable email detection
Syntax check
Bulk email verification
Catchall server detection
Domain check
Spam detection
Pricing Details:
MailFloss service charge starts at $17.00 per month. They do offer a 7-day free trial.
10.Hunter
Hunter is a web-based email verification and search tool designed to help you maintain a clean email list. The tool verifies email addresses from domains and companies to ensure a higher deliverability rate for your campaigns. The platform allows you to find business leads based on domain searches, email address searches, and first/last name searches.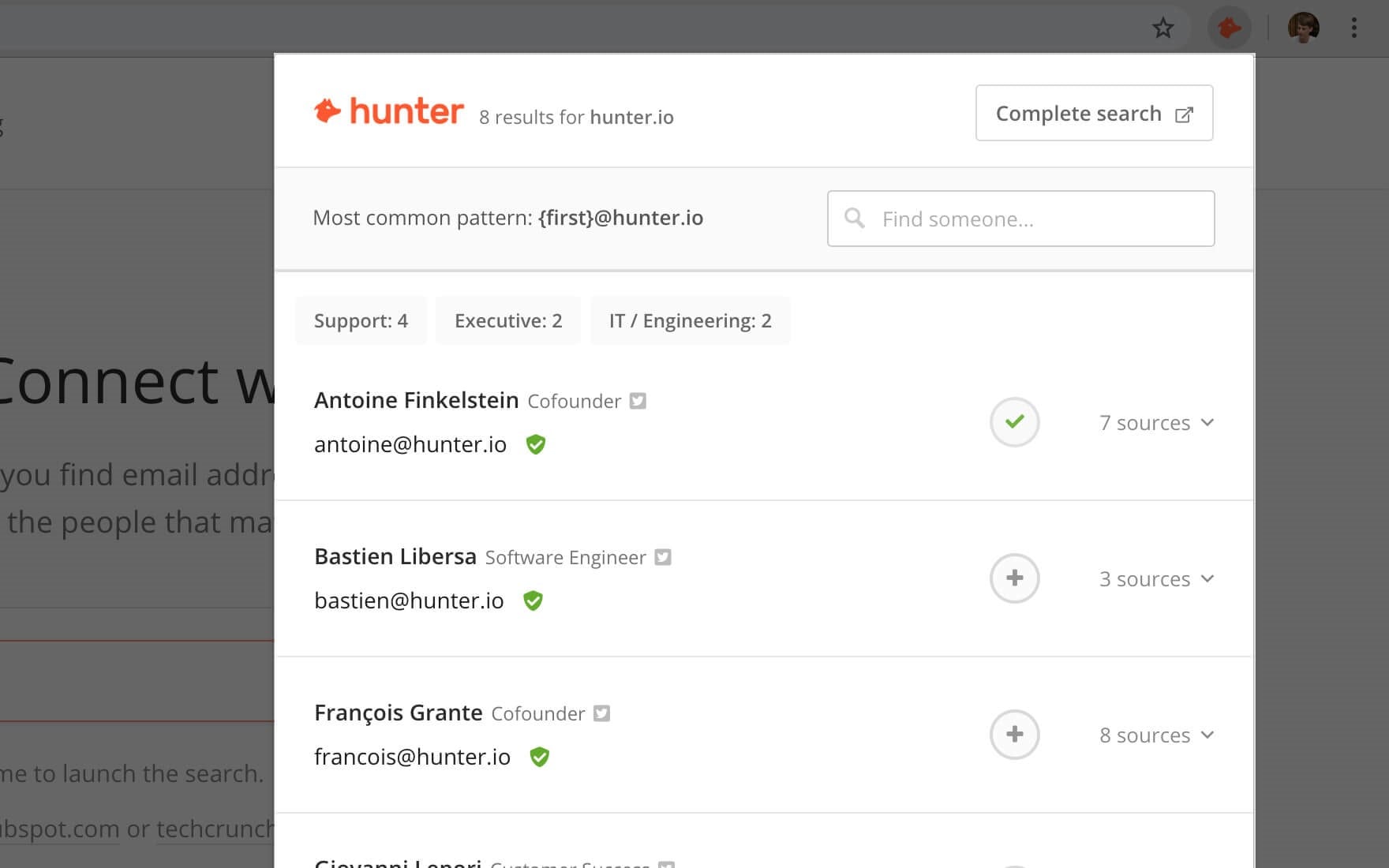 You will have to upload the email list you want to validate and verify in the Hunter dashboard, and the rest will be taken care of by the email list cleaning tool.
Services Provided:
Subscriber management
A/B testing
WYSIWYG email editor
Reporting/analytics
Data cleaning/enrichment
APIs
Pricing Details
Hunter's pricing starts at $49.00 per month. There is a free version. Hunter offers a free trial.
Final Thought
If you are using email marketing to engage with customers and build relationships, you ought to keep your email list clean from time to time. A list that comprises inactive or invalid customer contacts yields unsatisfactory email campaign performance metrics. No matter how effective your email strategy is, if your list is not clean and verified, your campaigns will end up at the spam box or boost customer disengagement. Moreover, it may adversely affect your send reputation as the spam markings of your emails goes up.
In such scenarios, email scrubbing/email list cleaning comes into the rescue of digital marketers as it helps in removing those annoyed subscribers and ensures maximum data accuracy and relevance. By maintaining a clean email marketing list, you can be sure that your emails will reach the right subscriber inbox and successfully convert them into paying customers.
So, get your list cleaning done right away to protect your digital reputation!