If you are running a B2B business in the manufacturing sector, you are well aware of the fierce competition due to the similarity of products and services. There are too many irons in the fire, from the challenges of living up to customer expectations to adapting to new technological advancements.
Having a well-defined B2B manufacturing marketing strategy can help you provide more value and stand out among this cutthroat competition.
B2B marketing needs highly engaging marketing strategies to drive demand and leads. You can only achieve this by identifying your business's core strengths and weaknesses.
After all, you must find what makes your business unique in an overly crowded industry!
If your business struggles to make the call, you are at the right place. Here, we will discuss three secret marketing strategies to jumpstart your business and generate more leads faster.
B2B Marketing Strategies for a Manufacturing Company
To quote Peter Drucker, the renowned Austrian-American management consultant,
"The aim of marketing is to know and understand the customer so well the product or service fits him and sells itself."
It may sound contradictory, but putting lead generation as the central goal of your industrial marketing strategy will do more harm than good. In fact, many businesses make this mistake and then struggle to align their marketing strategy with the business end goals.
So, you should try focusing on meeting the goals of the buyers instead. After all, your services or products will only serve their purpose if you know how to reach the right audience.
Here are the top B2B manufacturing marketing strategies that will help you overcome this challenge.
1.   Produce More Industry-Focused Content
A specific way to shift the focus more on your buyers is through content creation relevant to the industry. The purpose of these contents would be to make the job of your potential buyers easier.
Now, Industrial and manufacturing businesses need to engage with procurement managers, engineers, and MROs daily. Therefore, understanding their behavior, habits, and challenges can help you better align the content to meet these needs.
According to SEMrush, 97% of businesses have benefited by implementing content into their marketing strategy. Leading digital marketing solution provider WebFX also claims that 88% of industrial manufacturing marketers actively utilize content marketing to increase brand awareness.
Here is an example from a rotational testing systems and service provider, Test Devices Inc. This manufacturing brand uses a unique style of content marketing by providing Spin Testing for Manufacturing 101 eBook to promote their quality product with an in-depth explanation about the topic.
Your content marketing could include everything, from 101 eBooks to blog posts. These are all top-of-the-funnel marketing ideas that can result in better brand recognition.
Of course, reaching out to potential clients will help you reap the full benefit of these content strategies.
But for that, you need to identify your prospects accurately first. You can make your marketing strategy more successful by segmenting the targets based on demographics, experience, and revenue.
2.   Focus More on Email Marketing
Speaking of reaching out to clients, your manufacturing business can benefit immensely from promoting the products via emails or newsletters.
Very few methods are as effective as email marketing when building a solid B2B manufacturing marketing strategy. This effective marketing channel lets you keep the subscribers updated with the latest arrivals and upgrades.
Wouldn't it be great if your prospects relied on you to receive important industry news? This is an excellent way for your business to establish brand authority among potential leads. Moreover, you are also making sure that your business stays relevant in the minds of the customers periodically.
Take a cue from the Ferguson, which is the largest US distributor of plumbing supplies, PVF, and fire and fabrication products. They're quite active when it comes to keeping everyone informed about company news, product launches etc. via email marketing channel.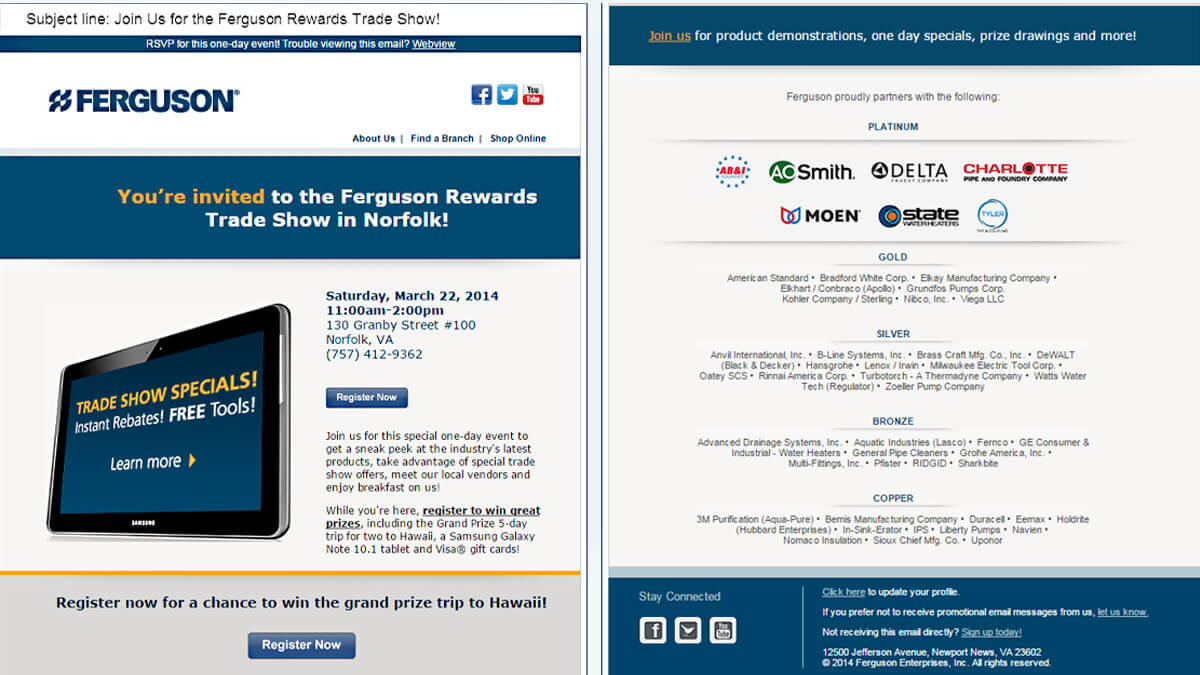 Now, this is easy if you already have a vast customer base and only wish to retain them. But for a business looking to grow, it is equally crucial to acquire new leads simultaneously. For that, obtaining a reliable and authentic industry-wise database with accurate contact details is vital.
With these tools, you can expect better conversion rates, higher engagement, and boosted ROI systematically.
3.   Build a Website
Another vital aspect of any B2B marketing strategy is addressing the customer experience. No matter how well-designed and planned your B2B marketing strategy is, you must not ignore the importance of a functional website. And in a crowd of 1.7 billion websites, this is no easy task!
This is the place that will gain the maximum attention for your blogs, landing pages, etc. So, you also need a proper B2B manufacturing marketing strategy for your website.
Apart from designing an attractive site, you need to take advantage of video products to engage visitors. Sharing stories about the company's journey is also valuable.
But what about legacy processes?
Many manufacturers still need help tackling this particular issue. Your customers crave manual communication and fast. So, you cannot leave them waiting for a response from your customer care representative if you wish to avoid sounding robotic.
Instead, including a well-managed and dedicated B2B portal on the website can make the process more humane. With the B2B portal solution integrated into your existing CRM, you can engage in real-time interaction with personalized data. But you must upgrade the CRM with the most updated database from time to time.
Summing Up
Having a unique and consistent B2B manufacturing marketing strategy is a must if you wish to get more business. In the B2B manufacturing industry, staying relevant and updated is the key to organizational success.
So, it is better to come up with out-of-the-box ideas that can change and give you an edge. So, you must also prioritize the internal processes along with competitor analysis and market research. Only then can you ensure that your business reaches its full potential while addressing the customers' needs.