Email Marketing is one of the oldest and most prominent methods of B2B Email marketing campaigns. Many top professionals believe in the dominance and reliability of email marketing trend. Studies show that the ROI of email marketing is higher than 3000% and continues to rise, even when the GDPR updates.
The fashion of email marketing has seen no fall back ever. Therefore, it is one of the obvious methods which marketers adopt for online marketing campaigns. But what are keeps this trend of email marketing changing and evolving with time is the catchy content of the emails, right strategy and innovative initiatives taken up time to time by organizations to generate leads and convert them into clients.
Let's seek more knowledge as to what are the upcoming email marketing trends that needs to be focused in 2020.
Subject Line is the Crown of Email Marketing:
The first and foremost important trend that 2020 witness is the extreme importance of the subject line. If your content of email is great but lacks crunch in the subject line, chances are high that your email marketing campaign can fall flat on ground. In B2B, clients get approached from all spheres and it is evident that your email to your prospective client should have an extra edge to hold attention to be opened.
Simplify Your Objective:
In B2B, customer is busy with many other tasks and may not read your entire email if it is over exaggerated. You should be clear while drafting an email content. The objective should not get lost due to the want to make it fancy. Put across the email in simplified form as to convey your proposal in a right shape. Many a times, the marketer designs a marketing plan in an innovative manner but holds too much length which flattens the cause and lose the interest of the client.
Personalization Is The Key:
Clients do not buy just the product or service that you are providing but also the aftermath. Customers in B2B have a serious urge to receive personalized emails, be it an offer email, greetings or newsletter. They want to be addressed by name and in the language they prefer. The tone of your email should be very humble and soothing to the recipient ensuring the client feels involved and considered while framing the email. According to a survey, 42% of B2B Marketers say they need better personalized marketing (Source: smallbiztrends).
Personalization is an ever changing field in itself. The demand to have utmost customer experience in B2B has evolved the shape of B2B industry.
Know Your Audience:
The basic rule of email marketing strategy is to know your target audience. You must identify whom you are addressing the email, their designation, choice, organization and specialization in the industry. The right audience will only be keen in your email campaign. Many established and successful organizations believe in designating a team to analyze and identify the correct group of audience based on their online searches and surveys. This enhances the chances of improving lead generation and boosting ROI.
Organizations believe in the ease of segmenting the audience based on their requirements. Like an already existing clients would expect more feedback and follow-up emails than business generating ones. While the newer ones should receive frequent proposal emails.
Point Out On Value:
At times, companies send email newsletters to the clients to keep them informed about the offers, and new adoptions. To stand out from the crowd, you need to make sure the value of your content is above the regular standards. Provide your client with informative data that will spike interest level in them and build credibility of your brand along.
Balance Between Advertising And Content:
Due to the haste of converting a lead into a customer, organizations end up sending frequent business advertisements to the leads. This can turn a hopeful business into a daunting experience. Therefore, it is essential that you don't send monotonous advertisement emails to your leads frequently. It should rather be involving them through quality content rather than just pushing a proposal throughout. Remember, it is your client who creates your success, so treat them how they like it.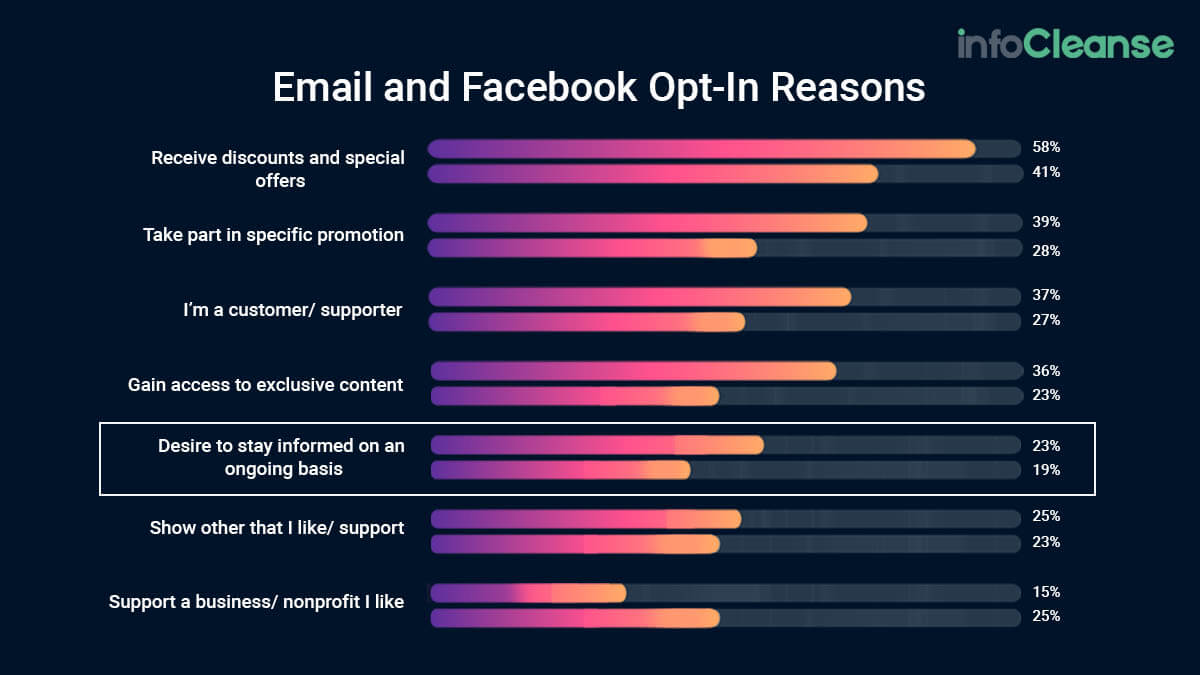 Source: Superoffice
The benefits of email marketing campaigns can do wonders to your organization. Its advantages are as follows:
Sales Growth
Boost ROI
Increase of Clients
Improve Brand Reputation
Spike Company Profits
Enhances Customer Experience (CRM)
Generate Robust Leads
Elevates reliability
Conclusion:
A unique email marketing campaign is a must to reach out to your prospective clients. In B2B, the competition is soaring high and every organization attempts to do what every other individual is doing to leave no stone unturned. However, the success is not in following the crowd but in following the latest trends so you stay updated and can match the changing requirements of the clients.