Promoting products and services via email is known as email marketing. Salesmen often depend on email marketing for a number of reasons, including brand building, content distribution, and product promotion, etc. It also allows you to build relationships with your customers and connect with prospects. As a result, the customers remain up-to-date and tailor their marketing messages accordingly.
Let's move on to 10 email marketing statistics you need to know in 2021 to get a sense of how much email marketing is worth.
1. Wide Usage
From plain text format to the present modern interactive layout, e-mail has really come a long way.  According to a survey, around 91% of respondents consider email to be the most prominent strategic channel. Around 293.6 billion emails were exchanged daily in 2019.
By 2021, approximately 4.03 billion people worldwide use email. Experts also predict that number will rise to 4.48 billion by 2024.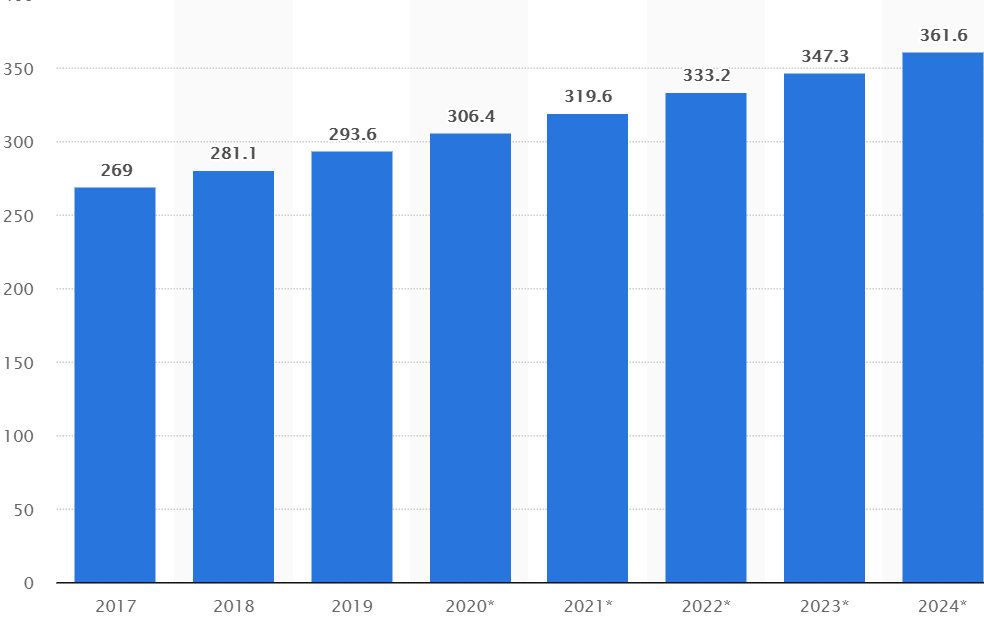 The influence of email is quite big. Facebook's latest statistics make their monthly active users exceed 2.2 billion which is not even half of the email.  This proves that email marketing is useful and necessary.
2. Email Marketing and ROI
Email marketing helps make a profit. If you spend a dollar on email marketing, the average expected return is $42. This is higher than the expected benefit you get from other forms of marketing.
For small businesses, email marketing has many benefits, but the ROI can actually grow your business. SuperOffice also showed that for every dollar spent on email, the expected return on investment is $ 51.
Email marketing, according to research, generates $0.08 revenue per email sent. Mailing 100000 subscribers mean you get an ROI of $8000.
If you do business in developed countries, your customers use email, and so should you. No matter how small your business is, you have the opportunity to reach people 24/7 through email marketing
3.  Automation
One of the main advantages of email marketing is that you can use automation. Simple automation like sending automated thank you emails or reminder emails, find and retain more customers, etc.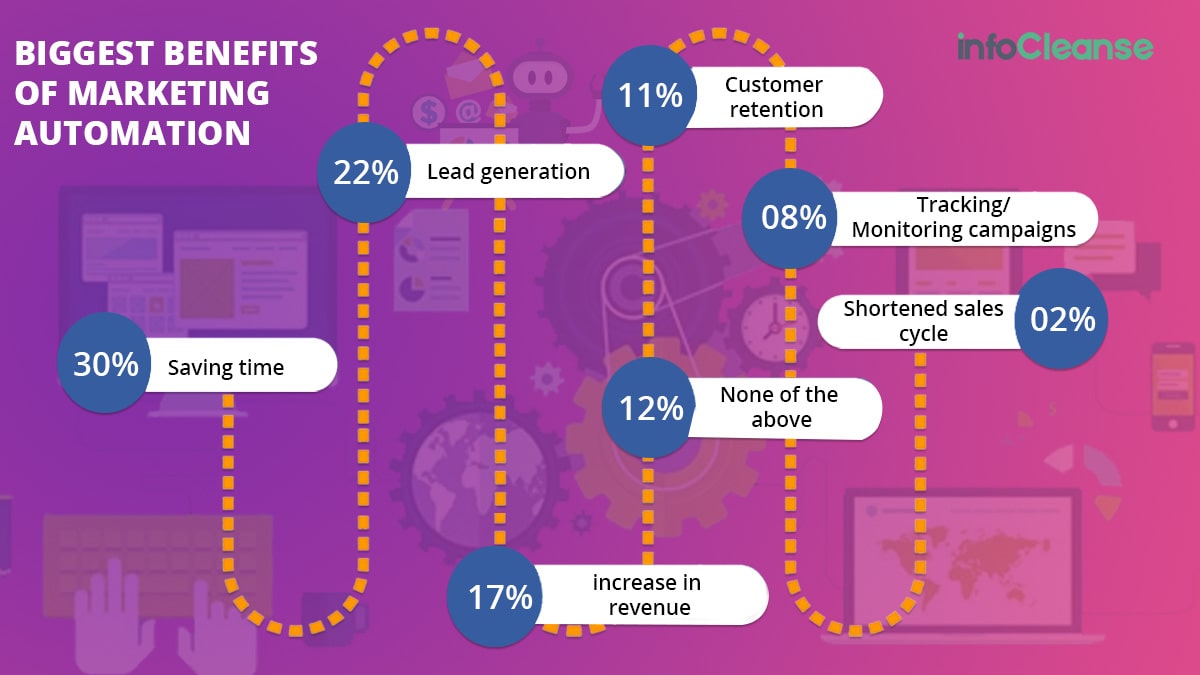 According to a survey,30% of the experts felt that the biggest benefit of marketing automation is that it saved them a lot of time.
4. Flourishing Business
Email remains a major source of customer loyalty and acquisitions in small and medium-sized businesses. Research indicates that 81% of small businesses still use email as their primary channel of customer acquisition, and 80% rely on customer loyalty.
Social media marketing contributes a lot to the growth of a business. However, when we talk about increasing sales and about the direct impact and reach, nothing is better than email marketing.
5.  Segmentation and Personalization
Email marketing uses tools such as Constant Contact to achieve smarter and efficient marketing with email segmentation. With segmentation, anyone can send various content to different segments and make your email more personal and relevant to your readers. Segmented email is most likely to attract people to click its buzzer. The more clicks, the more eyes will be in your shop.
20.81% is the average email open rate. However, if you personalize the email, you will see the effects of personalization. Emails that contain a personalized subject have a 50% higher opening rate.
So, a good tip for email marketing is to adjust your greetings and subject lines and include individual names while sending emails. You can personalize your own emails with company name, industry, or any interesting topic.
6. Mobile Audience
Since 2011, the rate of opening emails on mobile devices has increased by more than 100%. Smartphones continue to exist and are used by most customers. The salesmen are trying to find ways in order to reach mobile users. Fortunately, email marketing is a simple and cost-effective option.
Mobile devices today account for 60% of email openings. Email assists customers to stay in touch from anywhere on their mobile phone.
7. High opening rate
The opening rate is a great way to check the status and effectiveness of an email marketing strategy. It indicates the number of people that are opening the email. Approximately 82% is the welcome email opening rate. You can use this when creating email campaigns for your growing audience.
8. Interactive Mails
These days, marketers prefer interactive content. According to reports, adding a video to your email increases the click-through rate by 300%. Also, be sure to optimize all interactive emails for your mobile device.
From the consumer's point of view, 60% of customers sign up for a brand's mailing list to receive promotional messages. In contrast, only 20% of consumers follow brands on social media to find out more about the offers. This pretty much erases how email is here to stay.
Social media engagement is lower than email engagement. Overall social media engagement is 0.58% for Facebook, Twitter and Instagram combined.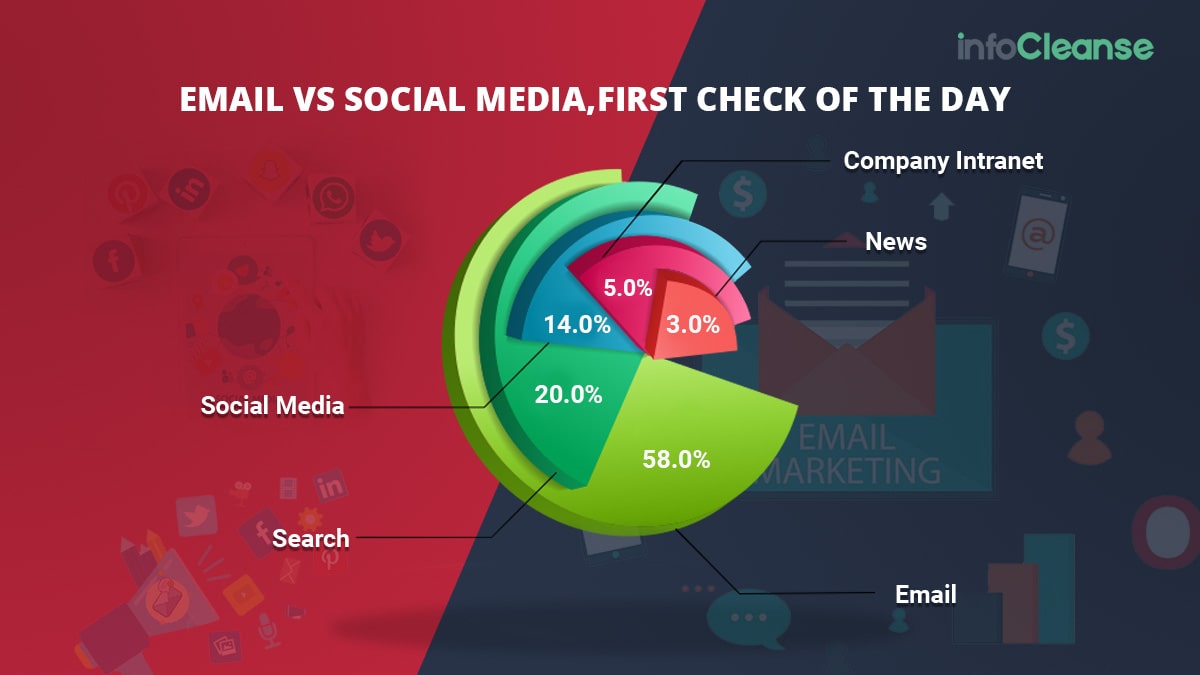 9. Content Distribution
Coupled with a great performing ROI, email marketing has become one of the most commonly preferred content distribution strategies for marketers. It appears that up to 87% of marketers employ email marketing as a means to get their content posted.
Email marketing as a channel for content delivery has many benefits. Many engage in collaborations that are paid for with the intention of promoting their content in the email databases of their partners.
As one of the most favored among marketers, email sharing is now the highest standard for evaluating the performance of content. 9 out of 10 marketers reveal that they evaluate email metrics such as downloads, click-through rates, and open rates to determine how well content is performing, more than social media analytics and website traffic. Email is so popular among marketers that email sharing is the highest criterion for evaluating content performance.
10. Quick and Easy Service
With all the new and high-end features of social media, you might think it has overtaken email as the fastest way to reach new and existing customers. But the truth is that 21% of emails are open within the first hour of delivery. Email is a fast and efficient way to connect with your audience.
Various forms of communication have come up through the years. Nevertheless, email marketing continues to be strong and growing. Facts have shown that email marketing can increase ROI, customer loyalty, brand loyalty, and more. An email has many uses and can be used as an affordable channel.
To give you a thorough understanding of how email marketing works, we've provided a lot of email marketing statistics here. Email marketing is quite compelling and can have great results for your e-commerce business.