Gone are the days when telephones were considered a bane of society. However, every technology becomes a boon or a bane based on how people use it. With the healthcare industry marching towards advancement, telemedicine in healthcare is the latest buzz.
While virtual consultations are still a thing, telemedicine has given it a new face by creating an entire technology. With the help of artificial intelligence and automation, organizations actively implement telemedicine in healthcare.
Read ahead to understand what the future of healthcare in telemedicine.
What is Telemedicine?
Before exploring the several benefits of this concept, it is essential to understand telemedicine in healthcare. The true definition makes an umbrella term for online consultation without meeting the doctor face-to-face.
That includes utilizing several other communication technologies like phone calls, video calls, audio recordings, online monitoring, text reminders, etc. Other terms covering this concept are digital medicine, e-medicine, e-health, telehealth, etc.
How can this simple concept of telemedicine in healthcare bring such a significant change in the industry? The following section explains the answer to this question. Read on!
Functions of Telemedicine in Healthcare!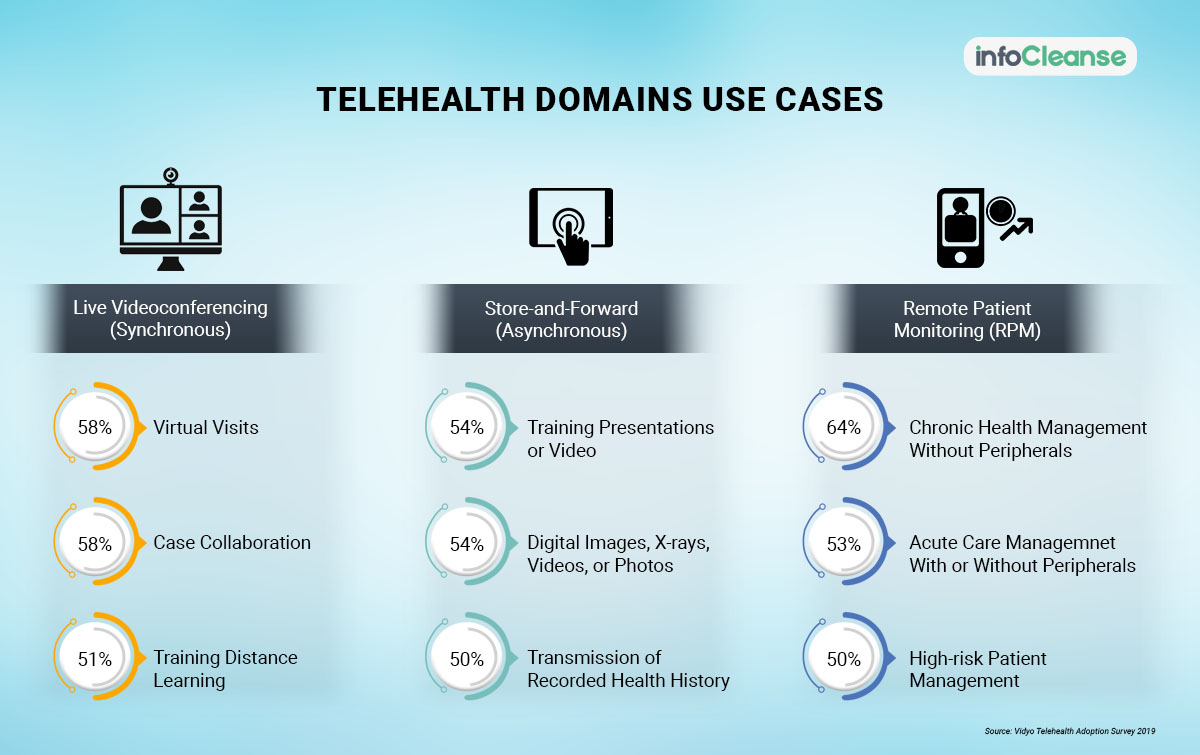 Telemedicine in healthcare plays a vital role in critical areas like rural locations, places with limited resources, and online handling of emergencies. Also, the omnipresence of computers, mobile phones, and video calling features has become easier to implement this concept at various levels.
It adds convenience to regular healthcare services and gives the privilege of better treatment to people of all classes. Furthermore, physicians and doctors can utilize telemedicine in healthcare in two different forms since there are both patient-centric and physician-centric applications.
Take a look at the two different ways mentioned below.
Patient-centric service: In this type of service, the patient has the facility to connect with doctors and clinicians via emails, telephonic conversations, and video calling. This service mainly allows the patient to fix an appointment or seek service from their end.
Physician-centric service: This type of service allows a physician to share test reports, explain the result, and deliver urgent care from their end. Also, they can change or modify the prescription as per their knowledge and understanding. This also allows the physician to dictate the reporting date to the patient after completing medication.
The following section examines how telemedicine in healthcare brings a wave of change in the industry.
How is Telemedicine in Healthcare Playing a Pivotal Role?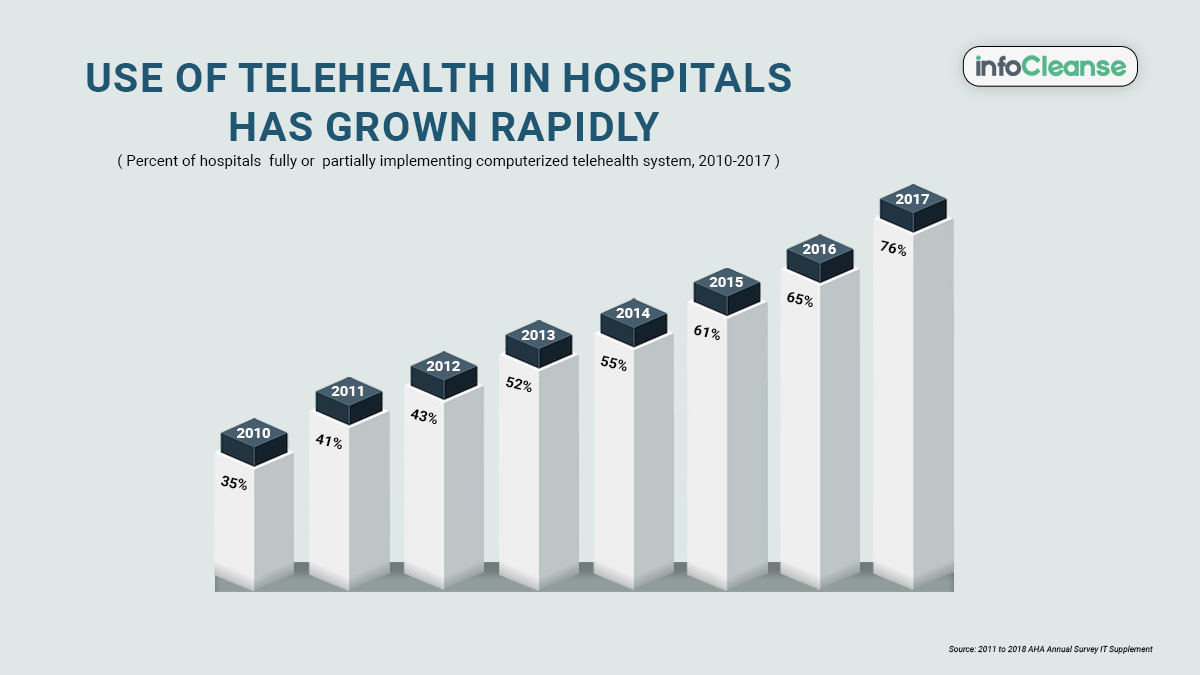 The healthcare industry has always been on neutral ground for providing a good quality healthcare service to the patient. While the hospitals and organization are doing their best, the services are still not accessible to many people.
Telemedicine in healthcare is one solution that removes the barrier of location and affordability. Below are some fantastic benefits of healthcare telemedicine.
Convenience and Affordability
These two significant factors deprive people of access to a good quality healthcare facility. Remote areas affected by natural calamities or war zones cannot have all the doctors in person to treat the victims.
Laura Hoffman, a senior research fellow at Solomon Center for Health and Law Policy, once asserted,
"telemedicine could make healthcare facilities accessible to a vulnerable group of people."
Specialist Consultation
Access to specialists is minimal because they are available for a constricted period. Telemedicine connects specialists with the patients over text or video calls to give equal care to every patient.
Small hospitals or independent clinics that cannot afford to provide consultation with all the specialists shift towards telemedicine. In this way, the specialty doctors can also suggest the result interpretation of the medical reports.
Moreover, clinics can always reach specialists using the healthcare directory and book telemedicine sessions.
Patient Acquisition
Patients move to a different location or opt for another hospital only because of the services. When they get access to a good quality healthcare consultation or service through telemedicine, it is easier to maintain their loyalty to the hospital.
Besides, many applications are available on the web or over the computer system to make telemedicine in healthcare a seamless process.
Reducing Nosocomial Infections
Nosocomial infections are the ones that occur when a healthy person gets infected after visiting a hospital. In the era of increasing viral infection, telemedicine reduces the cost of combating these infections.
Moreover, it keeps everything isolated and away from the hospital environment. Different organizations have used telemedicine in different ways to enhance the efficiency of their hospital.
The following section discusses some of the best services offered by telemedicine in healthcare.
Different Services of Telemedicine in Healthcare!
While the setting of telemedicine is possible in both ambulatory and hospital-based environments, there are so many ways to use it for each sector. Some specialties have adopted telemedicine earlier than others, and here is how they are excelling in the arena.
Telepsychiatry: This is one of the most prominent services one can come across in telemedicine. Psychological and psychiatry consultations are convenient for both patients and doctors.
Telepathology: Pathologists can suggest lab-based tests, write prescriptions and interpret to give you consultation on your reports. Telemedicine and electronic health records have made it easier to manage these small consultations through remote settings.
Teleobstetrics: Do away with all the hassle and risk of going to a doctor during the gestational period. Now, telemedicine has made it possible to access prenatal care in the comfort of your home.
Teleophthalmologygy: Simple eye infections and treating superficial conditions are possible through telemedicine in healthcare. Also, this setting has made it possible for older adults to stay at home and get the best care. Clinics can quickly get the data about specialists in the area to fix an appointment with them.
Summing Up
Thus, after assessing all the pointers on the role of telemedicine in healthcare, it is evident that the virtual system plays a pivotal role. It is easy to implement and uses existing technology to enhance the services.
From managing an asthma attack to getting rid of allergies, telemedicine has made it possible for everyone. Doctors, physicians, and clinicians can quickly provide consultation over a handheld device alongside maintaining the affordability of the service.
People indeed define the fate of the technology, and people from the healthcare industry have turned telephones into life-saving devices.