2022 was an interesting year for the medical sector. As such, it marked a definitive recovery from the debilitating effects of the 2019 pandemic. More importantly, the industry saw a surge in new and innovative healthcare marketing trends.
From content marketing to dedicated multichannel campaigns, B2B marketers leveraged everything they could to drive engagement around their products and services.
Yet, the more critical question is: What does 2023 hold for the same organizations?
This article takes a look at precisely that. So, let's dive into the most prominent emerging trends in medical marketing:
1. Integrated Promotional Campaigns Using Targeted Market Information Will Come Out On Top
The argument for an extensive market research before campaign deployment has never been in doubt. And this is only going to become more pronounced in 2023.
More specifically, when it comes to healthcare marketing trends, medical equipment suppliers, manufacturers and even the end user will focus on organizations that offer solutions to their specific problems.
For instance, the dental chair market is projected to reach a valuation of $2.8 billion by 2030. In that period, purchasing directors in that sector will exclusively focus on technologies and services that directly facilitate production growth.
In short, relevance and targeted contact details and mailing lists will be critical to achieving marketing success.
Yet, such strategies also need to be supplemented with integrated healthcare marketing. The basic premise is to build a consolidated tech stack that relays consistent promotional material across multiple channels.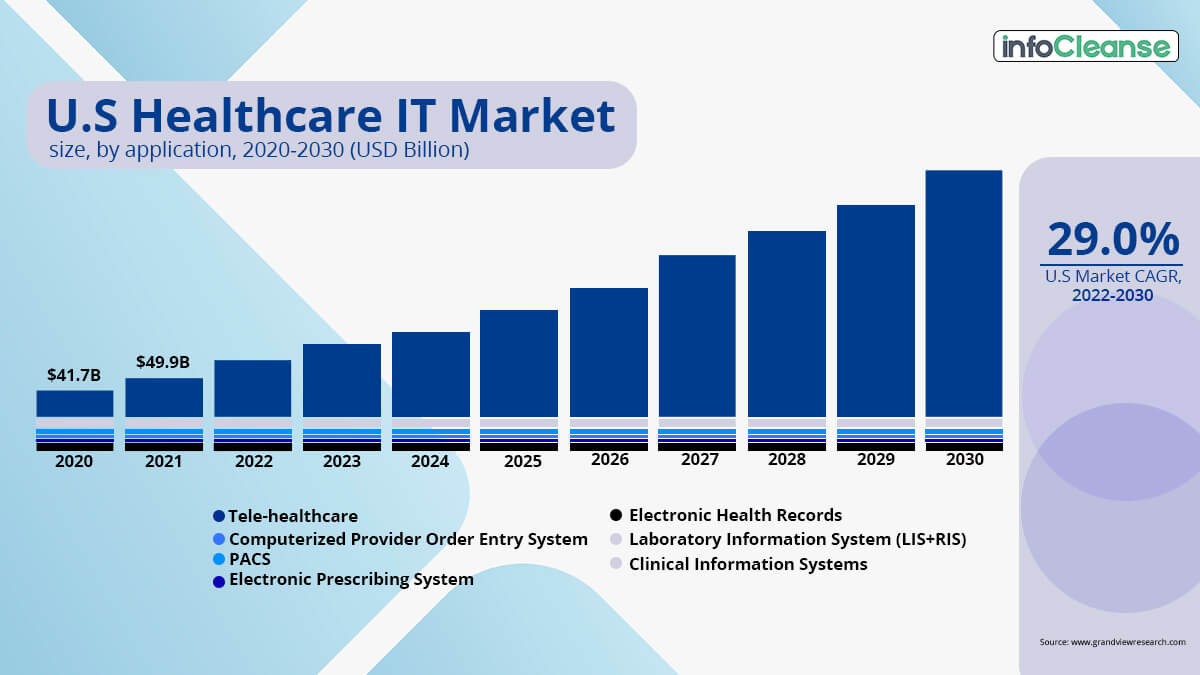 Marketers must rise to meet the growing use of technology in healthcare by building consolidated promotional channels.
This, in turn, leads to increased engagement and brand visibility by creating a cohesive market perspective around the offered products and services.
2. Personalized, Optimized, Patient-Centric Content Will Dominate Marketing Strategies
Content marketing is a highly effective way to drive prospect awareness around what your organization offers.
However, there needs to be a direct infusion of tailored and patient-centric material into such promotional strategies. Still, it is critical not to mistake this for merely creating SEO-friendly blogs, white papers and other related articles.
There also must be a focus on boosting search engine rankings by optimizing site material, social media channels and, most importantly, visual content.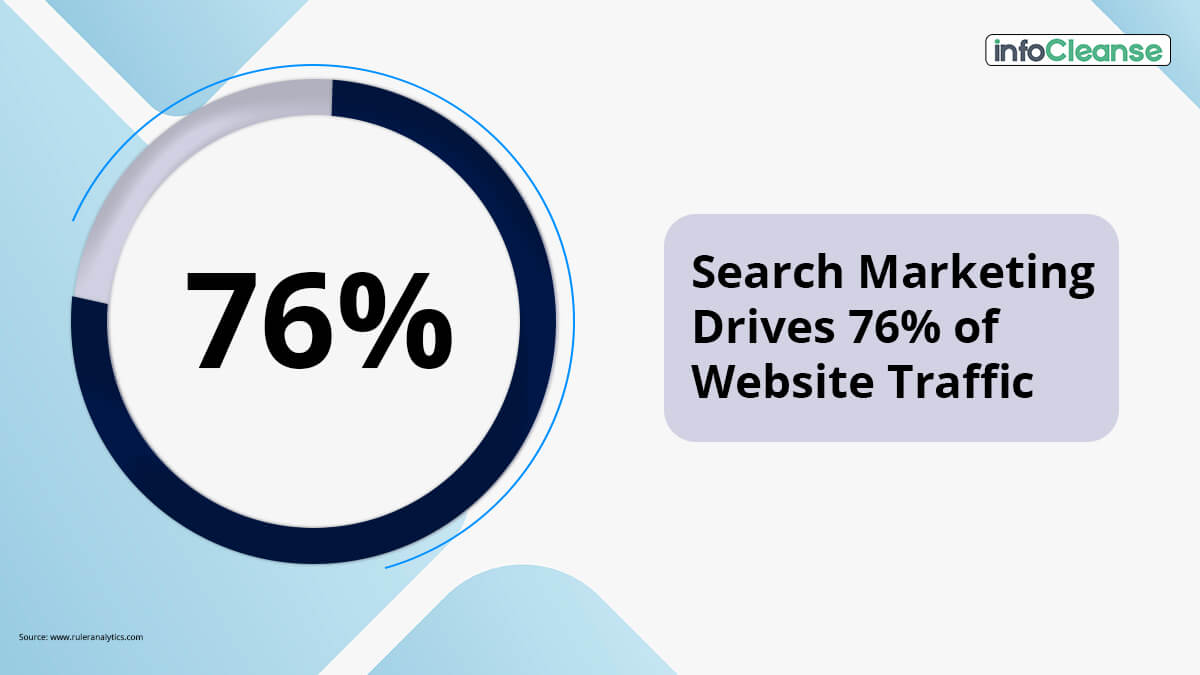 Optimizing your site content and promotional material is key to succeeding in 'Search Marketing'.
In fact, video-based marketing material will be crucial to engaging prospects in the future, let alone 2023, due to how concise, crisp and easily accessible it is.
For example, studies show that almost 7% of Google searches are health-related queries. As such, your marketing representatives can churn out informative articles to capture the patient segment. However, this method will only build visibility in the B2C sector. Simply put, it will not benefit your B2B strategy.
The solution is to strike a balance between informative written material and visual promotional content. That way, you cater to the end user and simultaneously establish a rapport with your core market segment.
3. Telehealth Will Become A Core Demographic Of All Healthcare Campaigns
Ever since 2019, telehealth has experienced a surge in demand. However, its growth has been inhibited by limited accessibility.
Nonetheless, that's all about to change in 2023 and beyond. In fact, in the US alone, telemedicine appointments have been steadily growing since 2020, averaging around 60-80% more bookings.
The US telehealth market is projected to grow at a CAGR of 22.9% between 2023 and 2030.
This is a potential indicator of the evolution of traditional healthcare marketing strategies. In short, digital portals and channels will become increasingly dominant in catering to the patient community.
And that will directly result in the heightened adoption of technology in the industry. For example, dedicated SaaS platforms and applications will become critical to finding the right medical services, making software developers and marketers indispensable to sustaining this growth.
Regardless, it helps to establish a presence in this area before it gets even more competitive than it already is.
4. Consumerization Of The Healthcare Industry Will Change Marketing Material Consumption
The consumerization of the healthcare industry is tied directly to the growing need for tailored marketing material in healthcare.
And while there are specific factors driving this, the result is the same: patients and related B2B organizations are no longer opting for pre-determined programs, products or services.
Examining the idea of 'dynamic control' is a better way to understand this. Most patients are now looking at solutions that offer them increased control over their medical journey, be it consolidated insurance coverage or cost transparency behind treatment plans.
Meanwhile, B2B organizations seek flexible products and services that adapt seamlessly to changing market trends.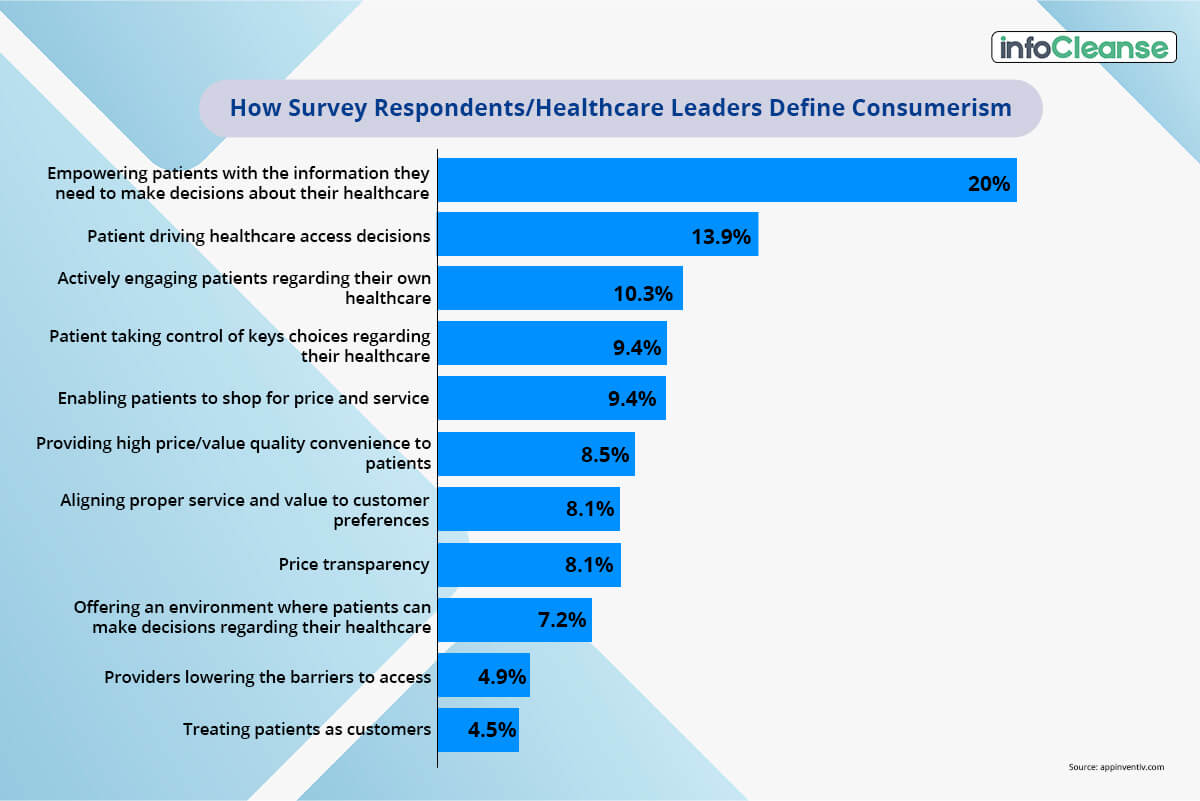 Empowering users and patients through transparent information is one of the primary characteristics of the healthcare industry's consumerization.
Essentially, the attention has shifted to value rather than the outcome.
Subsequently, promotional strategies targeting either of the two market segments need to account for this change. The idea here is to address the specific problem that a product or service addresses while elaborating on how it will continue to do so.
5. Social Proof Will Be More Important Than Ever
Social proof is one of the core underlying aspects of any promotional campaign. And this is especially relevant when dissecting the healthcare marketing trends shaping 2023 and beyond.
More importantly, positive market perception helps build product and service engagement with your core audience demographic.
Essentially, patients want to understand the exact value they derive from medical wearables. Conversely, healthcare institutions and purchasing directors wish to know how specific product ranges can improve treatment programs.
The majority of patients browse reviews before booking an appointment.
This is similar to the idea of consumerism in the healthcare sector. The only difference is that the concept is more closely tied to building market awareness around your products and services.
Still, this does not translate to building favorable reviews on one dedicated channel. Instead, like integrated healthcare marketing, you must pay particular attention to supplementing promotional efforts with positive social proof from multiple parallel directories and avenues.
Adapting To Changing Market Trends
Meghan Keaney Anderson, the former VP at HubSpot, has an interesting quote about marketing deliverability. To paraphrase, she says:
"Unengaged subscribers aren't interested in what you're sending. They are harming your deliverability.
Considering the emerging healthcare marketing trends, this statement is especially true. In other words, it is not enough to merely stick to what worked previously. Instead, the focus should be on altering the fundamental aspects of your promotional strategy to accommodate new and, more importantly, profitable opportunities.