As we start to pick up the remains left behind by the occurrence of COVID-19, one thing remains crystal clear for any marketer and businesses out there: the impact of data consumption in our current digital world has no doubt intensified while in midst of our current pandemic.
Between quarantine and the widespread lockdown of offices, banks, stores, restaurants, and more, society largely shifted its presence online.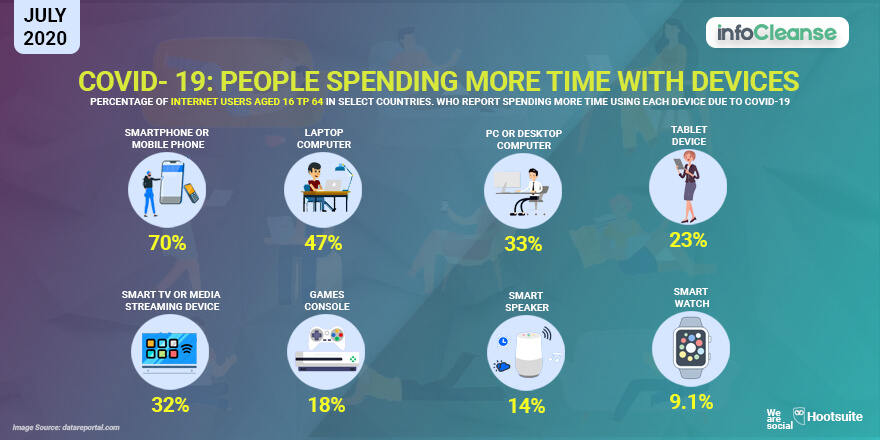 However, scaling back to pre-covid times, the data amount that was being created & shared was already increasing, albeit steadily. This strongly suggests how powerful online trends are here for the long run and data availability will keep on increasing in number.
Focusing back on the present, a recent study from Sisense reveals how 50% of companies are starting to utilize data analytics much more as compared to pre-pandemic times. This includes over 68% of small businesses as well.
How Far Has Data Evolved?
According to a report from April 2020, about 59% of our global population has internet access, while 4.57 billion are active users – this is about a 3% increase from the previous year i.e. 2019. Among those numbers, 4.2 billion are active mobile users while 3.81 billion utilize social media.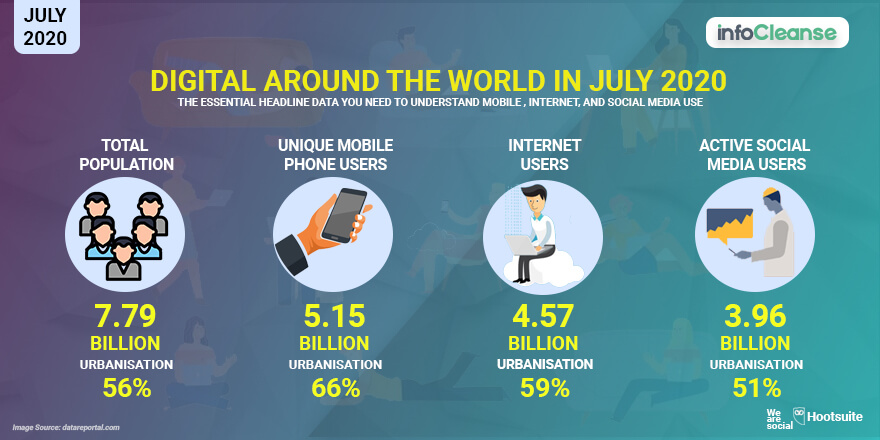 Given how COVID-19 has provided access to a much larger remote workforce, it's safe to say, the future of our work is here and it starts at home! – Well, at least for now. Here's one way of looking at this estimation:
Before quarantine, roughly 15% of Americans worked from their home. However, a recent study suggests how the number has increased by up to 50% with individuals engaging more on collaborative platforms such as Microsoft teams and zoom.
The former has an average of over 52k users connecting each minute while the latter, a video conferring company has experienced a sharp user spike with its daily app sessions shifting from over 2 million in February to almost 7 million in March (that's more than 20k people meeting each minute).
Unable to keep up with face-to-face interaction due to social distancing, the usage of Google Duo, a video-chat mobile application had an increase of 12.4% (between January-March) while over 27k individuals met over Skype per minute.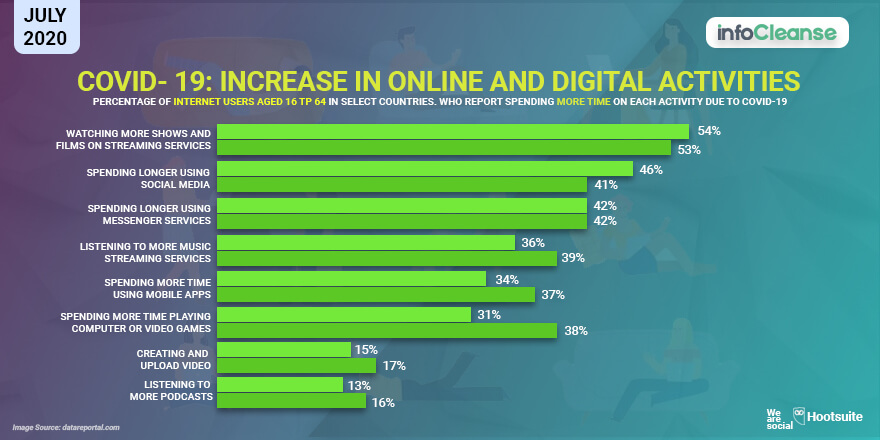 Additionally, the Facebook-owned text messaging platform, WhatsApp had also observed a 51% increase in usage during the pandemic.
With each passing minute, data grows more and more in number, now, this roughly equates to over 140k photos uploaded by users within that minute and that's on Facebook alone.
However private companies like Facebook or Amazon aren't the only ones with data. Even governments utilize data and the most noticeable one is the contact tracing application that alerts individuals when/if they remain close to someone with COVID-19.
This means data currently displays no signs of pulling back on its growth and yes, there are numbers to back up this claim. These numbers are not slowing any time soon and are expected to increase as the global internet population continues to grow over the years.
Infographic Content:- Numbers don't lie! More importantly, it reveals how individuals increasingly depend on apps to work from the comforts of their homes.
Now, let's see: There's video chat for socializing, mobile delivery services for ordering any type of goods, video streaming applications for entertainment, and the list goes on. As such, data is constantly generated through ad clicks, media shares, social media reactions, transactions, rides, streaming content, and more.
How Much Data Generation occurs Every Minute?
Remember, every minute accounts for data generation. Here are the newest stats on how much data is generated within each digital minute – let's have a look!
Starting with some numbers in the entertainment section:
One of the increasingly popular online streaming platform Netflix gathers around 404,444 hours of video streaming
Your favorite YouTubers upload around 500-hrs of video
The all famous video creating & sharing platform Tiktok gets installed about 2,704 times
Topping this section off with some tunes is Spotify that adds an estimated 28 tracks to its library
Moving forward with the most basic &popular part of our online community, yes, we're talking about social media:
The all favorite visual sharing platform Instagram rounds up around 347,222 user post in stories alone while its business profile ads observe around 138,889 clicks
Still keeping its momentum with memes and political arguments, Twitter gains around 319 new users
The OG of all social media channels, Facebook users – be it millennials, boomers, or Gen Z, continue to share around 150,000 messages along with an estimated upload of around 147,000 photos
Now, in terms of connectivity, the numbers have increased much more as compared to pre-covid times:
The emerging communication platform Microsoft Teams connect about 52,083 users
An estimated number of about 1,388,889 individuals make video & voice calls
One of the most utilized text messaging platform WhatsApp has over 2 billion active users that share 41,666,667 messages
The video conferring application Zoom hosts 208,333 participants in meetings
Viral news and content sharing platform Reddit sees about 479,452 individuals engage with content
While the employment-oriented platform Linkedin has users that apply for 69,444 jobs
But keeping data aside for a sec, what about the money that's being put online every minute? Well, it is estimated that consumers spend roughly $1 million online.
Additionally, Venmo users send over $200k worth of payments while more than $3000 is spent on mobile apps.
This shouldn't be much of a surprise given the fact that the popular online marketing company Amazon ships out 6,659 packages (in the U.S alone).Meanwhile, online delivery & takeout platform Doordash diners order approximately 555 meals.
Wrapping up
As our society continues to change, businesses must adapt to these changes as well and this pretty much requires data. Every swipe, click, like, or share adds to a much larger database and potentially hints at uncovering the needs and wants of your customers.
Hence, when these numbers are examined properly, the data acquired can assist in a much better understanding of a world that moves at an increasing speed.