Throughout the years, data cleansing has significantly played an important role in both data management and data analytics and it continues to develop rapidly to date.
Moreover, data cleansing, particularly in big data continues to remain a challenge because of its high & increasing volume, variety & velocity of data in numerous applications.
Data cleansing is no doubt an important task but another vital reason for its importance is to keep businesses in check with GDPR. However, cleaning data is a bulky process as different individuals/companies have several ways for data cleansing tasks.
As such, some businesses choose to operate at regular intervals while some choose to proceed in a one-off process, utilizing technology with relevant capabilities. On another note, some may choose not to carry on with it.
What Does Data Cleansing Mean?
Put it simply, data cleansing means the procedure of eliminating, upgrading & editing information found within a given database for maintaining efficient data quality.
This approach is something that can enable access to segmented along with accurate data to leverage it for multichannel marketing initiative & business operations.
Data fluctuates constantly, hence, over time, data within a specific event may become less relevant while data quality can also suffer due to lack of attention in terms of keeping it current and updated – which was quite common among businesses that suffered during the pandemic.
This highlights how availing data cleansing can help businesses address the plethora of challenges put forward by COVID-19 along with daily challenges like troubleshooting, manual data correction, incorrect invoice data, and error rectification.
Why Clean Data is Important
Oddly enough, the hygienic practice of handwashing amid covid-19 has evoked a much-needed reminder of cleansing data for efficient data science. Similar to hand washing, data can only be reliable after it's cleaned thoroughly & methodically.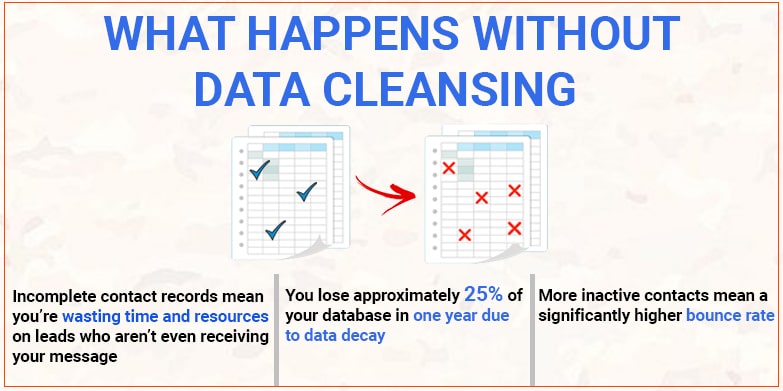 When data analytics remain inaccurate, it can lead to misguided decision making. This is something that can expose and land the industry in compliance issues as numerous decisions are subjected to requirements for ensuring data accuracy and timeliness.
Although, reducing the potentiality of bad-data quality can be availed through process management and architecture, however, it cannot be eliminated.
The only foreseeable B2B solution left is detecting and removing or correcting those errors & inconsistencies present in a database/dataset and make it usable.

With the progression of covid-19 in hand, it portrays a significant instance of how data cleansing works. Our current pandemic is a worldwide issue that has brought forward several questions that are needed to be acknowledged with data.
Here is a five-step data cleansing process to remember for better data maintenance. (Unfortunately, this will take longer than hand-washing.)
Select a dataset – Before the cleansing process, establish your best available dataset. You can proceed to the next step if you have a single data-set in hand. However, with multiple datasets, it's crucial to pick a core dataset.
Technical cleaning – This step does not require much knowledge regarding the data science techniques or domain but it is essential for analysis.
Fact-checking – With the information on various social media channels, you'll have to fact-check your dataset and validate it through a domain expert.
Address missing value – The fourth step requires addressing the missing/erroneous values identified earlier and removing or repairing those records with missing/incorrect values.
Choose data fields – The final step required is selecting the best fields available for analysis. This remains a critical step as it provides a solid foundation regarding feature engineering and also creating an efficient predictive model.
Benefits of Data Cleansing
Boosts results & revenue – Data cleansing can remarkably assist in providing better results along with greater ROI regarding marketing & communications campaign. With a clear dataset, marketing teams can also detect high-value prospects.
 Increases productivity and optimizes time – A well-maintained data-set helps ensure business teams remain only in contact with those that are genuinely interested in your service.
 Minimizes compliance risks – With clean data, businesses can avoid incurring fines regarding GDPR breach or any other legislation.
 Secures reputation – When people receive unwanted communication, it procures no benefit for your business. So, in operation data cleansing can assist in maintaining brand image, preventing spammy communication methods.
Not only does data cleansing remove errors and inconsistencies but it can also assist in running a much more efficient data operation. After all, fewer errors generally mean happier customers along with fewer frustrated employees.
Data Cleansing: Aftermath of Covid-19
To avert the impact and damage of COVID-19, the majority of businesses that were originally not home-based had to become one. This naturally means those businesses had to adapt or level up, hence, both system hardware & software were organized in an individual's home.
Businesses were also unable to receive and take office calls and in the majority of organizations, a massive amount of data was brought home. This adaptation, however, did not reduce the very importance of data cleansing.
Personal data is extremely crucial and despite being stationed at home, making sure all customer and other personal data remains secure, safe, and updated is vital for any type of business. As stated by data junkie and Ringleader CRO, Gregg Thaler, "Contact data will age like fish and not wine – the older it gets, the worse it is.
This is because all the regular GDPR rules are still applicable amidst the pandemic and it is of great importance that each data you hold is secured privately and kept up-to-date.
This makes database cleaning an extremely valuable service for your company to consider. Realistically speaking, a huge percentage of businesses shy away from data cleansing or do not take it to its recommended extent.
This could be the combined result of resources (such as lacking in terms of staff) and time or being unaware and weary of the entire process.
To summarize, if data cleansing seems to be an ideal need for your business, it can and will prove to be highly beneficial and not to forget, profitable for your business in the long run. After all, database cleansing is something that can sustain and future-proof businesses as data continues to hold great importance in some form or the other.