One of the most widely recognized and utilized marketing methods by business firms globally at the moment is email targeting. After all, it provides variable results and tends to be highly effective. So, where does phone appending fit into all of this?
To ensure email marketing programs can achieve their desired results, it becomes a necessity for companies to have access to reliable consumers. Now, this is where phone appending enters the picture.
As an email list includes information regarding prospective customers, this field of marketing can be further enhanced by utilizing phone numbers, and to achieve the desired goals or results, it becomes crucial for businesses to make use of phone appending services.
In simple terms, phone appending is the process by which consumer or business numbers are updated to a company's contact database. Similar to any other data, phone numbers have very little shelf life, hence, having your phone appended keeps your business relevant and current.
Why Invest in Phone Appending Services?
Through the use of appropriate phone appending services, it is possible to entirely create an email marketing campaign that ensures an increased percentage of sales conversions within a specified period.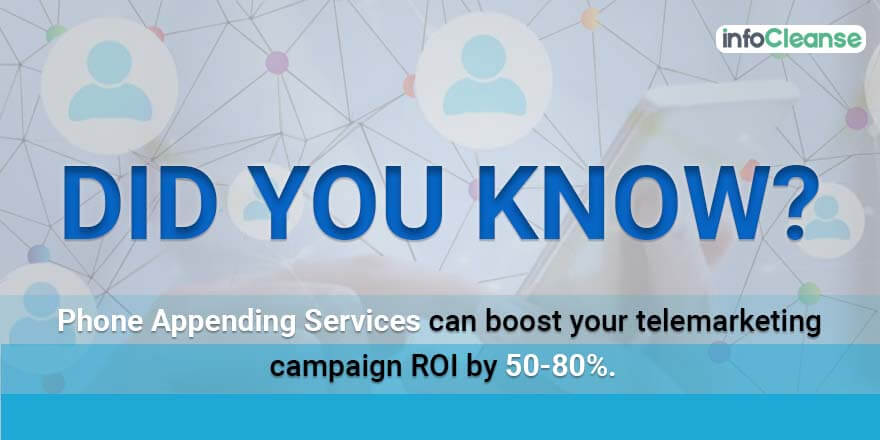 This means when companies gain access to important information about customers, sales teams can formulate an efficient campaign that specifically appeals to their targeted customers.
As databases assist marketing activities to operate smoothly, businesses must integrate customer or even business database to initiate successful campaigns. To maintain contact with the right type of prospects, businesses require correct data to provide a complete outlook of contact details to other users.
Top 10 Advantages of Phone Appending Services
Keeping in mind the importance of investing in phone appending services, let us have a look at some of the key advantages of integrating phone appending services into your businesses.
Restores Old Contacts
With phone appending, businesses can get their hands on some of the most recent client profiles including email ID, street number, name, telephone, and more. As we're all aware of how quickly customer data changes, this provides a chance for business owners to recognize and possibly even recruit old clients.
This is something that will aid in restoring those old contacts/clients which you may have lost touch with. The refreshed rundown helps eve communicate with those that moved out.
New Opportunities for Promotion
When contact rundown remains refreshed at each front, it enables the existence of more routes to exercise and put more focus in. A multi-station advertising technique could be formed by blending email, telemarketing exercises, and standard mail.
This opens up better client operation along with the degree of consistency. Plus, phone appending can also make it much easier to create customized marketing appeals. Amid stiff competition, it can instantly increase lead discovery along with conversion rate.
Increased Reaction Rates
As phone appending services can offer numerous ways of implementing multi-channel marketing techniques (like email, direct mail, and telemarketing), it lessens the odds of having your content undelivered and instead, increases responsive rates.
Cleaner & Accurate Information
Evacuating outdated information and rectifying accessible information are some of the benefits involved in cleaning out information. This means phone appending services can aid companies in gathering all the current contact information regarding their desired customers.
Marketers often face challenges when leveraging phone calls to connect and promote their brand and the most common hindrance involved in this scenario is obsolete or inactive contact. Hence, through these appending services, businesses can eradicate this issue quite efficiently.
Cuts Down Costs and Increases Upper Hand
Plenty of records are made conceivable without the high cost of gathering and collecting them. As cost is efficiently minimized, the business can put those saving into other projects. Additionally, when the right type of substance is conveyed over to those possible prospects, it provides an edge for your brand.
Thus, allowing your brand to have an advantage over other firms/competitors. Today, competition persists everywhere and so, with the additional head start offered by these services, your company can overtake those competitors without maximizing risks.
Quick & Faster overhaul
Merchants that provide email appending administration can offer append rates of around 60-70% for telephone, email, address, fax, and turn the appending process around. Given the database at your disposal, it shortens the time required to initiate your 360-degree showcasing effort.
Augments Information
Appending administrations can elevate and provide businesses with an all-around database that contains a considerable amount of subtle elements. This includes wage, socioeconomics, financial assessment, and more.
Thus, it provides your business with a much superior perspective on the market, which is great for arranging crusades appropriately.
Substantiate Points of Interest
The accessible appended records are always given a thorough and cautious checking, hence, a 100% conveyance certification is created. This is something that guarantees an increased achievement rate for your showcasing efforts.
As such, email and phone appending services are known to provide a much faster turnaround time in terms of securing sales.
Economical
Between two-three dollars, a large number of records are made accessible to be appended. In comparison, when you place the cost of that right next to the expenses brought forward by ordering information, phone or reverse-phone append turns out to be a much more cost-efficient approach for creating ROI.
Improved Customer Service
Last but not least, phone appending services are highly beneficial in improving customer service. How? Well, it's simple. When databases are filled with accurate and updated contacts, you're able to create a much more fluent engagement with your respected prospects while also improving customer service.
Final Thoughts
Appending services are something that can incredibly increase the all-around integrity of your business. It can also assist in managing an accurate customer database, which is quite important in a data-driven society.
Unlike other marketing methods, phone appending services can offer a much more practical and affordable approach for securing a higher percentage of sales. As accuracy and phone availability remains an integral part of any business data, every business should consider availing of such services.